Exchange Jet Error 1018-Operation Terminated with Error 1018
Just like any other platform, that is used for the purpose of cross-communication, MS Exchange is also associated with different errors. Many of these errors are easy to resolve with some manual workarounds, but few errors are hard to fix. One of such error is Jet Error 1018 in Exchange Server.
This is considered as the deeper level issue and therefore, need the help of third-party tool for resolution. Here, in the forthcoming blog, we will come to this solution along with manual tricks as well. However, before that let us gather some more information about the error.
Exchange jet error 1018: Operation terminated 
Error 1018 jet_errreadverifyfailure checksum error
Microsoft Exchange brings forth various interesting features that make it a popular email application. It is used in various organizations whether it is small or big. However, errors such as 1018 jet_errreadverifyfailure checksum error result in a very annoying situation for users.
This error indicates the physical corruption in the database of Exchange. It means the data stored in the disk gets damaged physically. This happens at the lowest level, which is the file system level. There are various reasons behind the error as mentioned in the next section.
Responsible Factors Behind Exchange 2007 Jet Error 1018
Some major causes that lead to Exchange error:
This error of MS Exchange can arise when the database is written in an inappropriate or improper way. Moreover, at the time data is stated in the wrong place on storage media.
When data gets unhealthy or damaged, this can also result in such errors. In addition, when data is modified once the storage of it has been done.
At the time, the checksum value that is used in the header of the database is different from the value of calculating database to the disk.
Some errors associated with the NTFS file system.
The error can also be occurred by the inaccurate location of the database on hard disk.
Solutions to Rectify Jet Error 1018: Operation Terminated With Error 1018
Now, you can fix the issue by using two methods in order to resolve this error. First is manually and the other one is, using third-party software as the professional solution i.e. SysTools Exchange Recovery Tool. It can efficiently repair Exchange mailboxes.
Let us begin with the manual tricks to resolve 1018 jet_errreadverifyfailure checksum error.
Method 1: Manual Approach to Fix Exchange 2007 Error 1018
Restore Data from Online Backup
This is one of the easiest ways to get rid out of this Jet Error 1018. You can restore the database as well as log files from the online backup, which is created. Exchange ensures that the backup is not corrupt by ending the process, in case Exchange error 1018 occurs. You can achieve this, with the help of NTBackup/ Windows Server Backup.
Repair Corrupt Database via ESEUTIL
Now, ESEUIL /p command can be used to discard the pages that are damaged. It is always recommended to take the backup of the entire data before initiating the process of recovery. Once, it is done perform these commands: ESEUTIL /p.

As soon as the procedure completes, ensure that everything is normal by the defragmentation of the database for removing the space to delete damaged pages. For this, you can use this command Eseutil /d.

In the final step, correct the logical numbering of the page with the help of ISInteg command as mentioned below:
ISINTEG –s servername –fix –test alltestsAlternate Solution
Now, there is a possibility that even after all these efforts the error persists. As the matter of fact, few errors cannot be rectified by using manual tricks. Therefore, users can use the automated solution mentioned in the below section to recover and repair the corrupted offline/dismounted Exchange database file.
Method 2: Alternate Solution to Fix the Offline Corrupt Exchange Database File
To overcome the drawbacks associated with manual approaches to the need for technical knowledge, lengthy process, not guaranteed solution, etc. Users can use a tool, namely Exchange Recovery Tool to get recovered from Jet Error 1018. It is designed with advanced algorithms that allow them to restore Exchange EDB File and rectify the error messages.
This software has a very simple interface and has the capability to finish the complete procedure of recovery in a few simple steps. The most important thing about this application is that it keeps the database safe and secure while fixing Jet Error 1018.
The utility supports private & public offline/dismounted EDB file and it provides dual scan mode option that recover and recovers 2003, 2007, 2010, 2013 & above version from corruption. For minimal corrupted Exchange database file, select quick scan and if the .edb file is highly corrupted opt the advance scan. This option recover hard deleted Exchange mailboxes and data items from loaded EDB file.
You can easily recover permanently deleted emails from Exchange database file along with various other items and mailbox with the helps of this software. It provides an interactive graphical user interface that make the jobs of users easily and save their time too.
It is capable to export selective or multiple mailboxes – legacy, shared, user, archive, disconnected and data items: calendars, contacts, notes, journals, mails, tasks, to Live Exchange Server, Office 365, and various other standard file formats. You can easily convert pub1.edb to PST, MSG, HTML, MBOX, EML, HTML file along with priv1.edb file.
Tool export Exchange mailbox from offline Exchange database the software automatically creates the export report in CSV file formats which contains the success and fail count of exported Microsoft Exchange data.
Key Features Of Automated Software
Preview healthy & recovered EDB mailbox items before conversion
Preserve actual folder hierarchy and keep metadata intact
Convert selective Exchange data using date & categories filter option
Export Exchange mailbox to PST and multiple file formats
Remove email encryption (SMIME/OpenPGP) from Exchange mailboxes in batch
Compatible with all MS Exchange Server, Windows OS, and Outlook versions
Working Steps to Repair the Corrupt Offline EDB File
1. Download the automated tool and run it in your local system
2. After that, select the add file button to load corrupt offline .edb file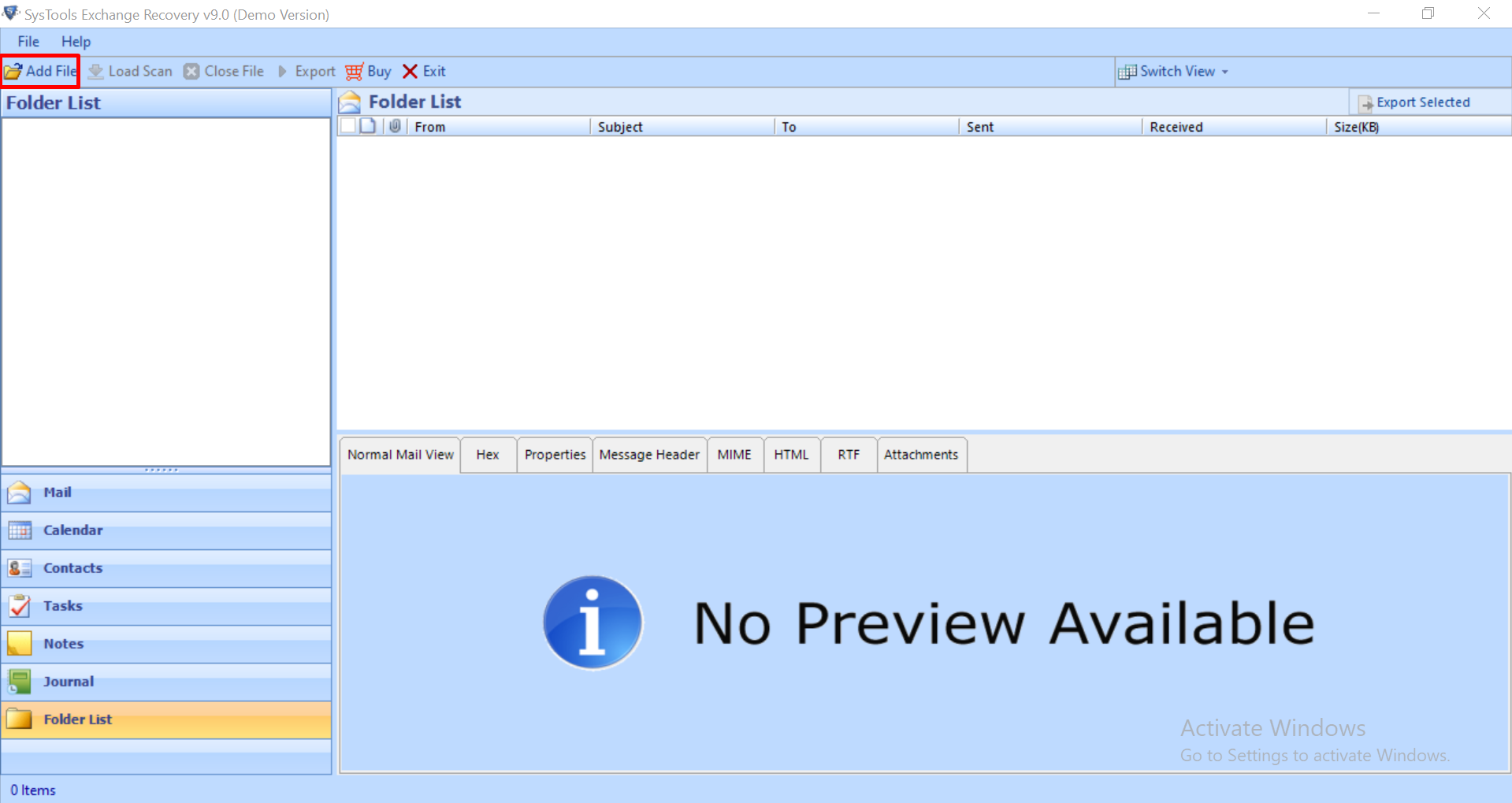 3. Click on the advance scan mode option >> Select the add button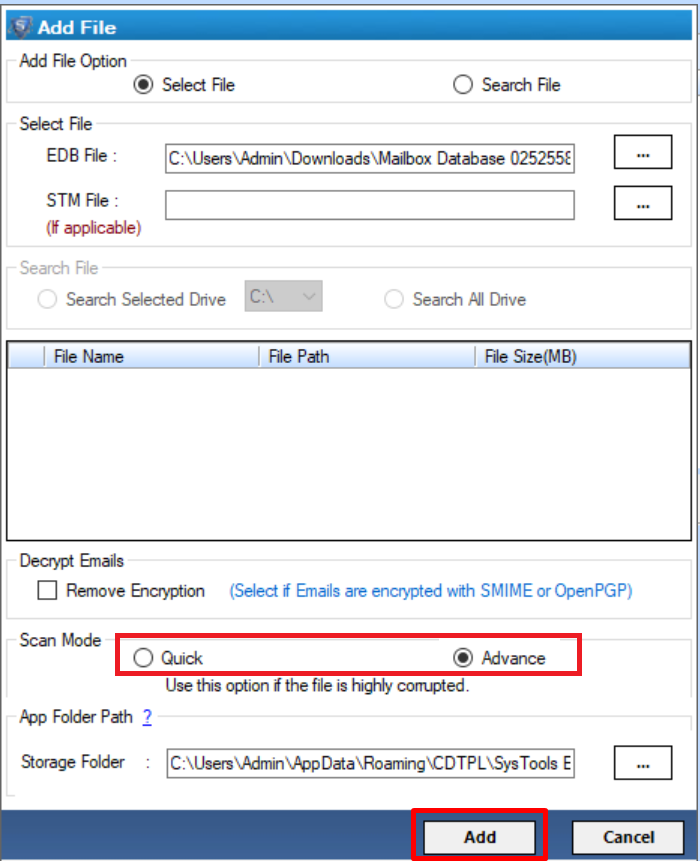 4. Preview the recovered offline Exchange EDB file & mailboxes >> Click on export button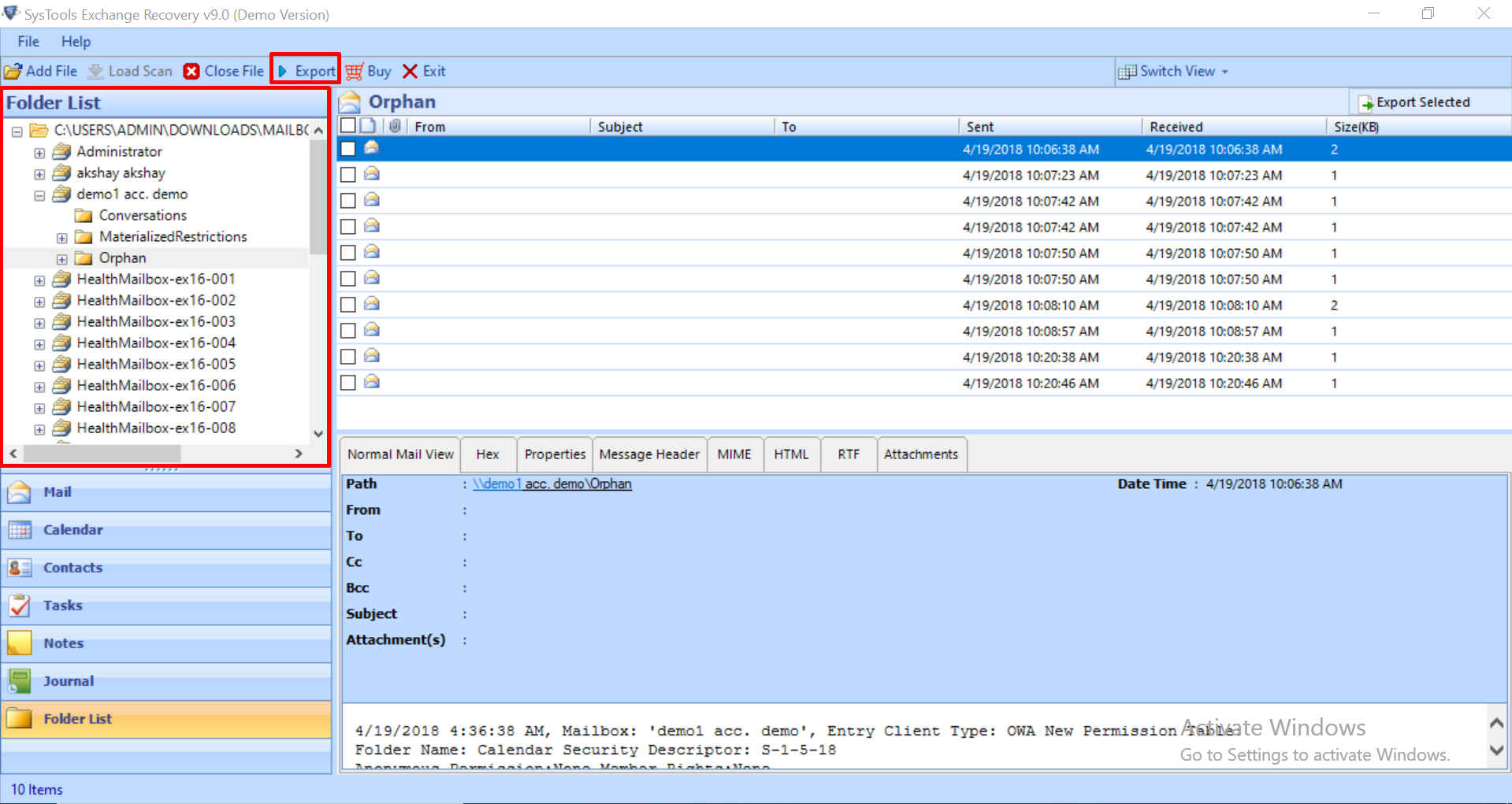 5. Select the Exchange .edb file mailboxes and export it to the desired export option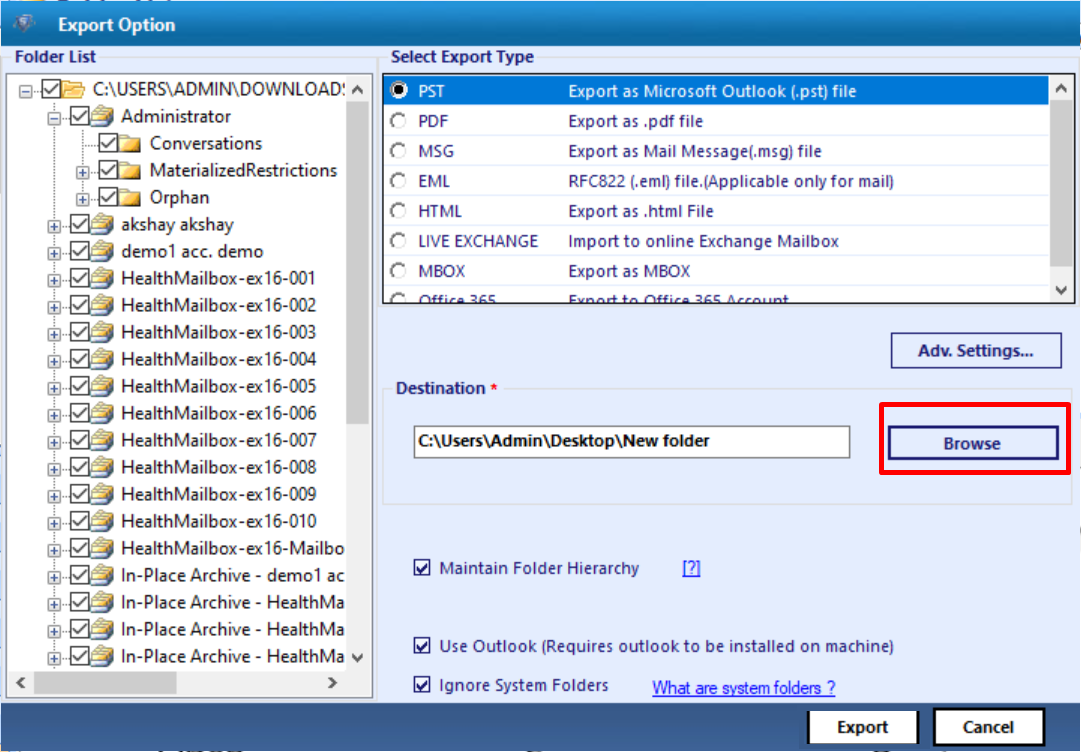 To Sum It Up
Exchange administrator must be aware of the errors associated with Exchange. One such error as discussed above is "Jet Error 1018" in Exchange Server. Considering the challenges users have to face while searching for the resolution of this issue, we have introduced manual as well as an automated solution which easily recover and repair the minimal and major corrupted dismounted/offline Exchange database file in a hassle freeway without any hindrance. Users can opt for any of these as per their convenience.