3 Best Solutions to Export Archive Mailbox to PST in Exchange
Summary: This article explains multiple ways to export Exchange archive to PST in a hassle-free way. It includes a complete step-by-step process, so you don't face any issues during the task. Go through all the steps and choose the best method as per your preference.
Exchange Server keeps emails in bulk and because of this it occupies a lot of space. Everyone knows that the space issue is one of the major concerns in Exchange Server. It contains both emails i.e., the important ones and un-important (old emails) ones. Users do this to move their unnecessary emails to an archive mailbox and create free space in the primary mailbox.
You can keep the archive mailbox in the same database as the primary mailbox or use a different database but the same Exchange server. You can also save the archive mailbox on another Exchange server in the same Active Directory.
There are three methods with which the users can export the archive mailbox. We have explained all the 3 ways so that you can choose any of the options that looks easy to you.
Points to Remember Before Initiating the Export Process
Users have to focus on these points and issues before starting the task using manual methods.
User have to use UNC network share (\\ or \\c$). For this, the Exchange Trusted Subsystem group requires permission to read import, read/write export for the network share. Users will face errors while exporting and importing the PST file if the required permissions are not assigned.
Please don't try to import or export Outlook Data File (PST) larger than 50 GB because it's the maximum file size supported by the current version of Microsoft Outlook. But users can export mailbox larger than 50 GB to the PST file by using multiple export request or by using a content filter.
It might take several hours depending on the size of Outlook Data File size or mailboxes, available network bandwidth & MRS throttling.
Before using the Exchange Admin Center or PowerShell cmdlet to export archive mailbox to PST in Exchange, users need to assign Mailbox Import Export Role. Additionally, they must provide the read / write or full control to the Exchange Trusted Subsystem security group of that folder.
Users can use the cmdlet given below to assign the role:
New-ManagementRoleAssignment –Role "Mailbox Import Export" –User "Name of User Mailbox"
After assigning the role, users have to create the shared folder to save the resultant file and provide the read / write or full control permission to the Exchange Trusted subsystem security group:
Follow the steps given below to provide the permission:
1. Create the new folder & right-click on it >> Select the properties option.
2. Then, select the sharing tab >> Click on Advance sharing button.
3. After that, click on the permission button >> Select the add button.
4. In the dialogue box enter the Exchange Trusted subsystem >> Then, select the checkbox i.e., full control >> Click on the apply button >> Select OK.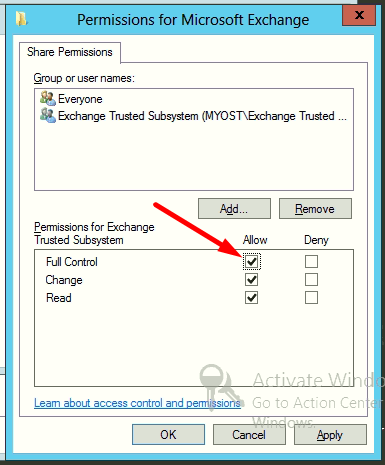 Steps to Export Exchange Archive to PST via Exchange Admin Center
1: Select User Archive Mailbox > Click on (…) > Select Export to a PST file.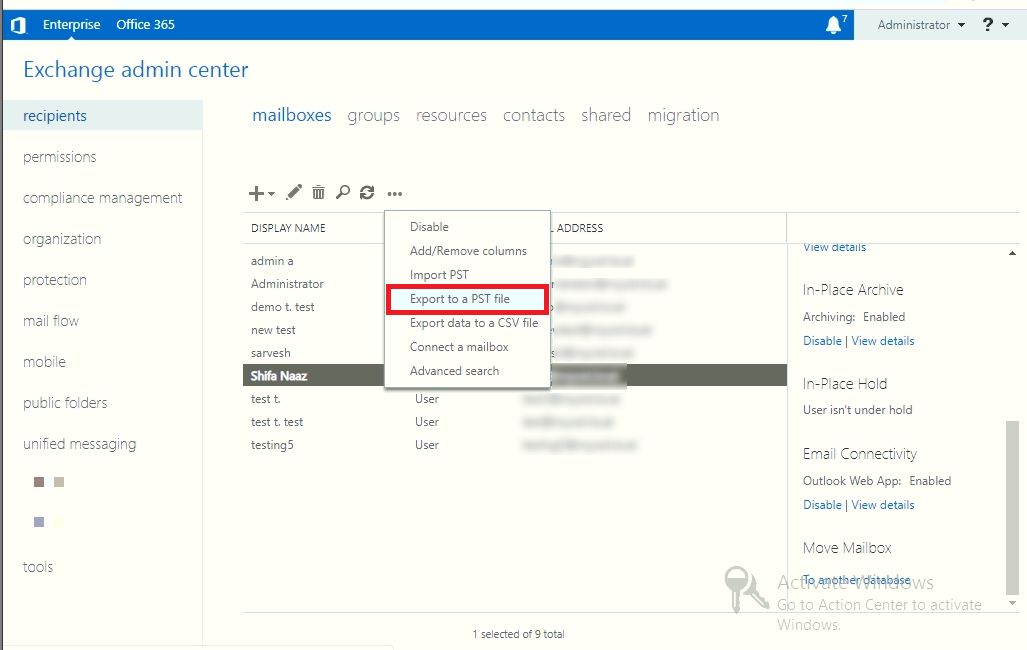 2: Click here to export the content of the archive mailbox > Click on Next.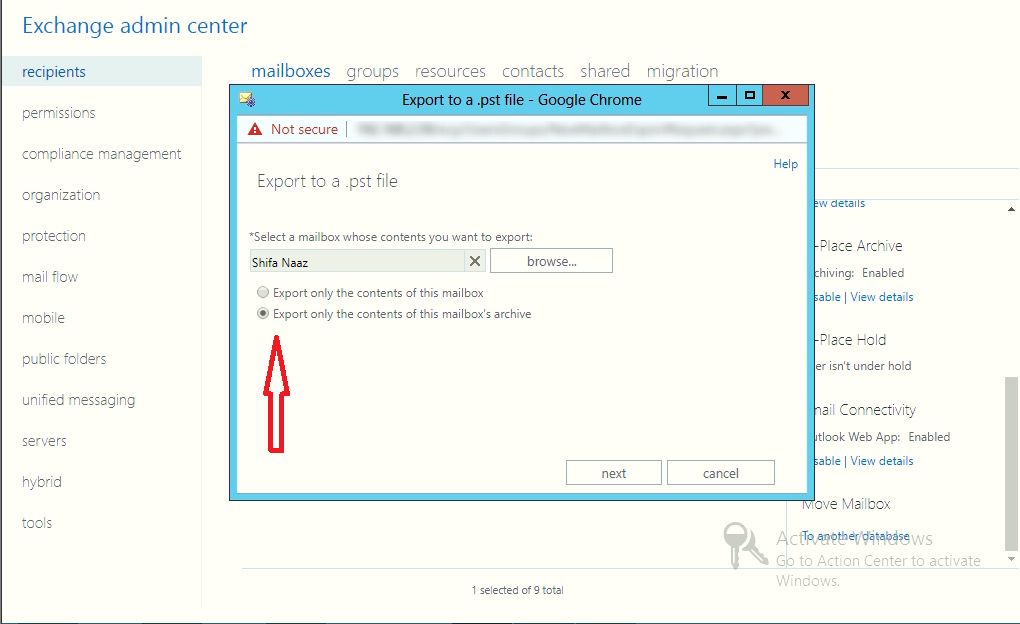 3: Insert the UNC path and filename of the target PST file > Click on Next.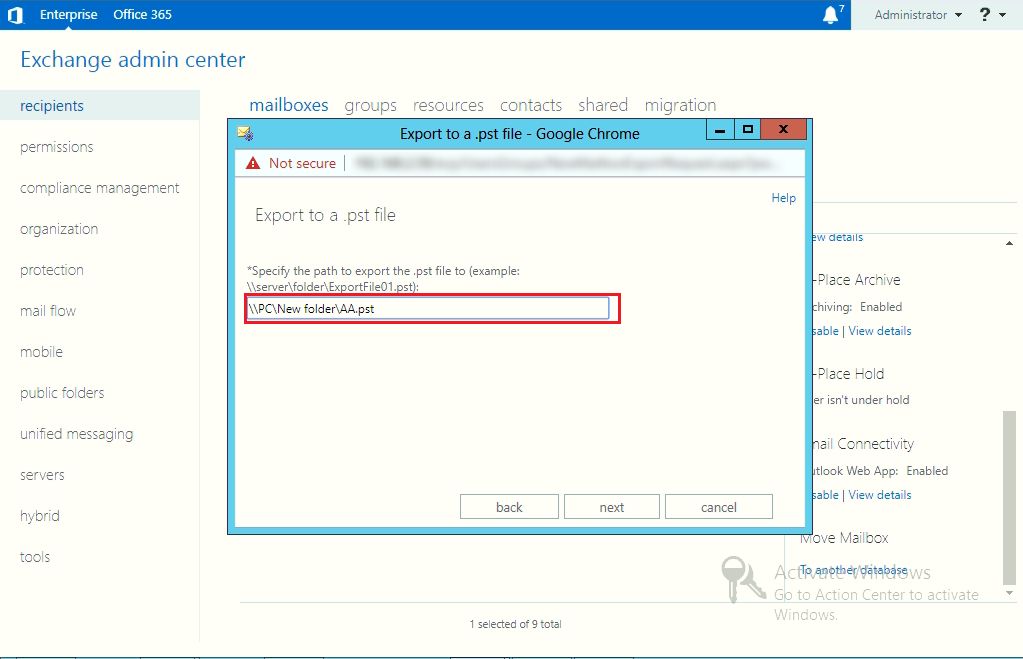 4: Select the Check Box > Click on finish.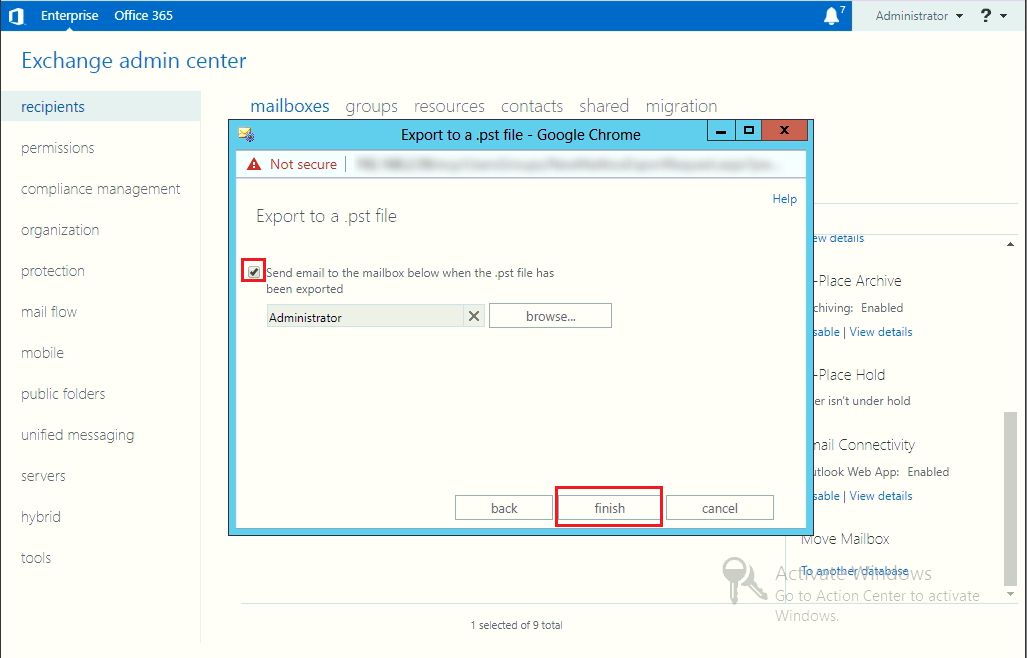 Finally, your Exchange Archive Mailbox has been exported.
Manually Export Archive Mailbox to PST via Exchange Management Shell
Users must know the commands to use this method and he/she should be technically sound to understand the error if it occurs while performing this solution.
Here is the command is given:
New-MailboxExportRequest -Mailbox "acb" -FilePath "\\SERVER01\PSTFiles\xyz.pst" -IsArchive -IncludeFolders "#Inbox#"
Below is the example given:

Limitations Of Manual Solution
1. The EAC or PowerShell cmdlet doesn't export archive mailbox from offline / dismounted Exchange database file.
2. It requires in-depth knowledge, skills, and hands-on experience.
3. The method is prolonged and time-consuming. Depending on the size of the Exchange Archive mailbox it takes time to export it.
4. Doesn't work properly with the corrupted EDB file and mailboxes.
5. Only exports one archive mailbox at a time.
Note: There are many users who have the dismounted / offline Exchange database file and want to export the archive mailboxes from this database. However, the solution described above only exports on-premise Exchange archive mailbox. In that case, users can use the advanced solution mentioned below. It permits users to export archive mailbox to PST file in a simplified manner without using any command.
Automated Wizard to Export Exchange Archive to PST from Offline EDB
The EDB to PST Converter is the professional solution that is used by most companies or organizations to export Exchange database archives into PST. The tool helps them to export multiple archive mailboxes to PST from the offline / dismounted Exchange DB file.
The utility provides scan mode option easily recovers & repair Exchange mailbox & EDB file from corruption. By default, removes minor corruption of the Exchange Database file using Quick scan mode and the Advance Scan mode recovers highly corrupted EDB file.
It doesn't require any technical knowledge or commands to use this software. User do not face any issues or errors while using this tool.
This tool has an interactive graphical user interface that helps naive users to easily export Exchange mailboxes to PST file. The software automatically creates export report which stores the success and fail count of exported Exchange mailbox data.
Features of Professional Tool
Users can selectively export EDB file and Mailboxes.
Does not impose any file size constraints
Export mailbox from offline Exchange database to Outlook PST
Maintain Folder Structure and Data Integrity after conversion
Provide Quick and Advance to recover corrupt Exchange database files
Remove email encryption (SMIME/OpenPGP) from Exchange Mailboxes
Save EDB file into PST, EML, HTML, PDF, MBOX, MSG file formats
Support all versions of Windows Operating System, Exchange Server, Outlook
Export Archive Mailbox to PST in Exchange | Step-by-Step Method
1: Download > Install the Software.
2: Click on Add File > Add Exchange Database File > Click on Add button.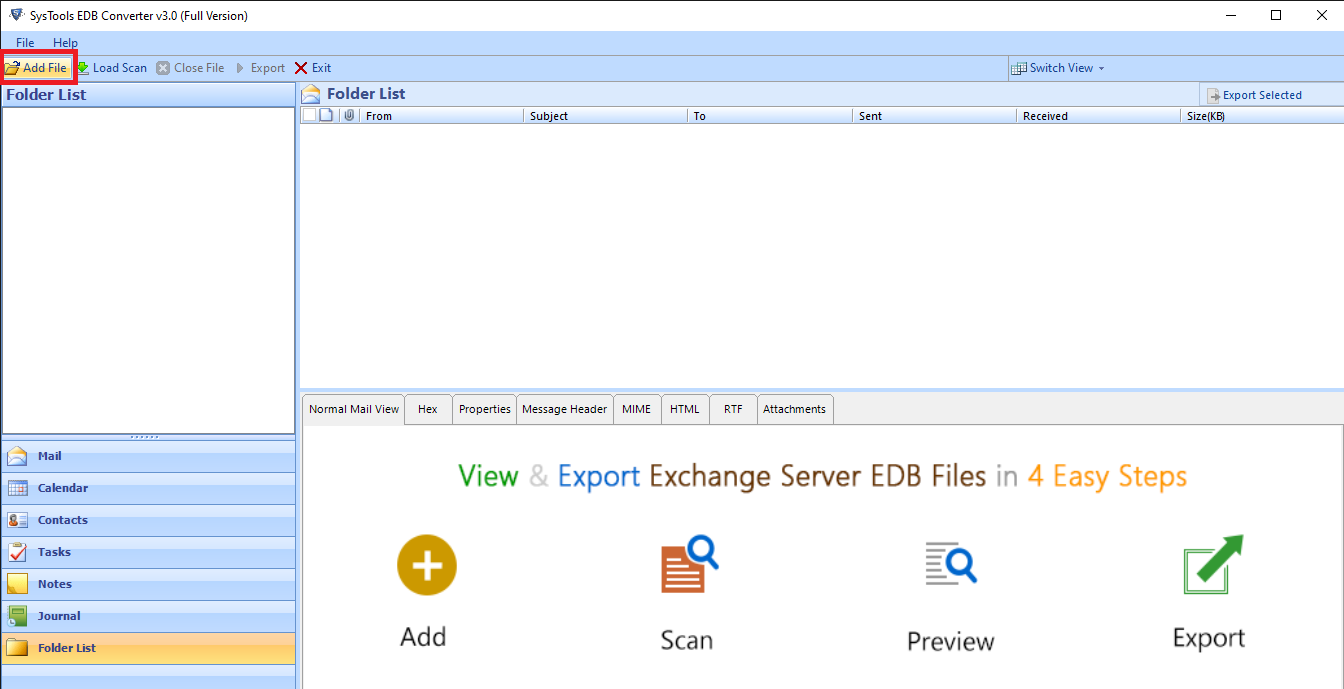 3: View the Exchange Archive Mailbox > Click Export.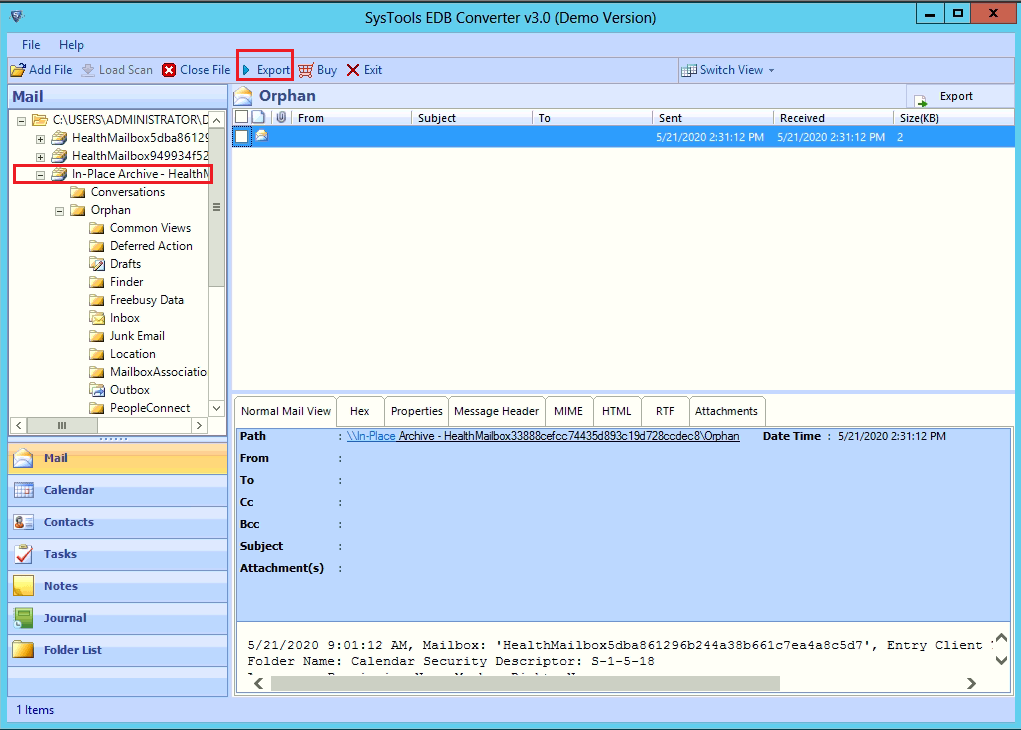 4: Select Archive Mailbox > Click on PST > Click on Browse.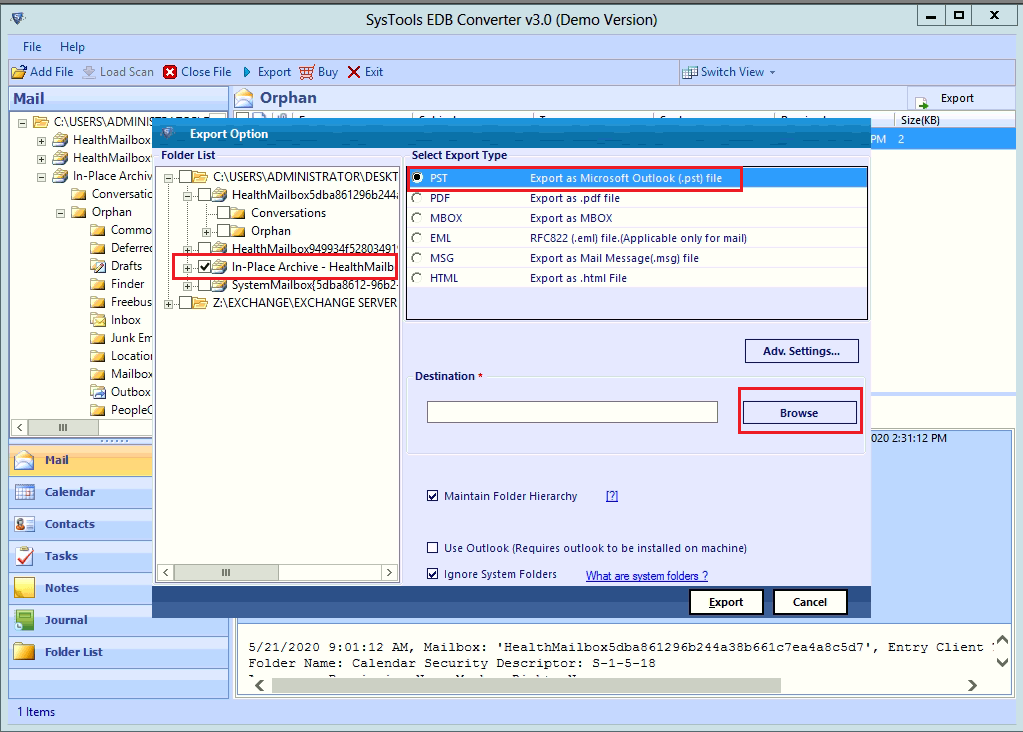 5: Select the target file > Click on Export.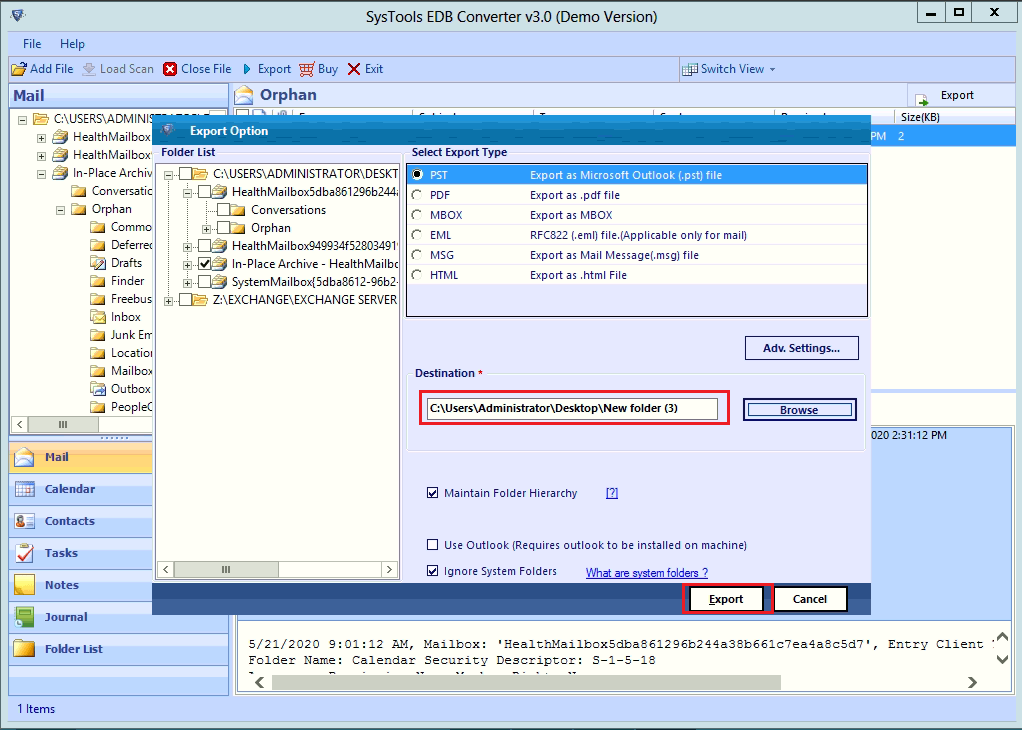 6: Finally export Exchange Archive to PST is successful.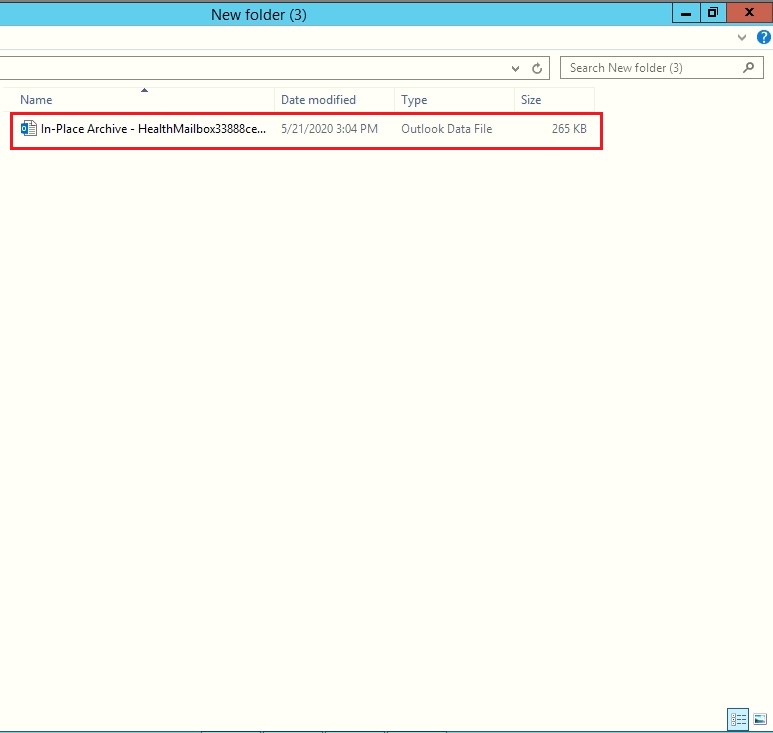 Bringing It All Together
Therefore, now you have detailed information to export Exchange archive to PST. This write-up provides complete information about why users are exporting the Exchange archive mailbox, manual solutions / its limitation, and the working steps of the automated solution. To export the archive mailbox from the Exchange Server, users can easily use the manual solution. In case you want to export EDB archive mailbox from offline/dismounted Exchange database file users can use the advanced solution mentioned in the above section.