How to Open EDB Files Outside Exchange Server Environment
This entire article describes a query "how to open EDB files outside Exchange Server" to the users. The chief intention to this write-up is to introduce all the users about different techniques through which they can get over from the mentioned problematic situation and view contents of EDB file.
EDB is an abbreviation of the Exchange Database. The EDB data files are Exchange Server database files, which are used to store the entire data items of the Exchange mailbox. For example email messages, journals, tasks, notes, attachments, contacts, calendars, etc. EDB is a Rich Text Format (RTF) data file. Every Exchange mailbox consists of two default mailboxes folders:
Public folder (pub.edb): It stores database RTF format
Private folder (priv.edb): It saves default emails and attachments
However, being inclusive like other software, until now Exchange Server is also not an error-free service. Moreover, any error full application can invite you to a big data loss or data corruption. Then, the question occurs, how to open EDB file without Exchange Server?
However, before going to the solution part, let us get a quick idea about causes for what users are helpless against Exchange Server. Furthermore, why users search for the solution to open EDB files outside Exchange Server?
Requirements for Opening EDB File Without Exchange Server
Extensible storage or jet engine errors
Opening any, unfilled EDB data file
Missing of data fragments from EDB
Trying to open EDB outside Exchange
Exchange Server is not responding
Local machine is in inconsistency state
Virus attacks or infection in EDB files
For security purpose or privacy issues
Highly corrupted Exchange Database file
To get rid of Exchange Server complexity
Unavailability of internet connection
Maintenance state of Exchange Server
Use Automated Wizard to Open EDB Files Outside Exchange Server
None of the manual solution methods are able to open any corrupted or dismounted EDB files. We recommend users to use a trusted and advanced solution i.e. Exchange EDB Viewer software provided by SysTools, which open Exchange database files outside the Exchange server and then users will able to view contents of EDB file such as: notes, tasks, emails, journals, contacts, calendars.
The software can scan and preview the corrupted exchange EDB mailbox data. Users can view both Private and Public offline/dismounted EDB file via this utility. There are two modes of scanning that recover corrupt Exchange Database Files i.e. Quick and Advance. After the scanning process, the users will able to view the recovered unhealthy or damaged .edb file.
Quick scan is used to recover minimal corrupted EDB file and for severely corrupted Exchange database file select the advance scan mode. The tool is designed to view multiple EDB files simultaneously.
The software is best for those users who, do not want to devote a lot of time in complex manual methods. Users can use EDB File Viewer to view their Exchange EDB files without Microsoft Exchange Server 2000, 2003, 2007, 2010, 2013 & 2016.
Stepwise Method to Open EDB Files Outside Exchange Server
Step 1: Download the professional tool and Launch it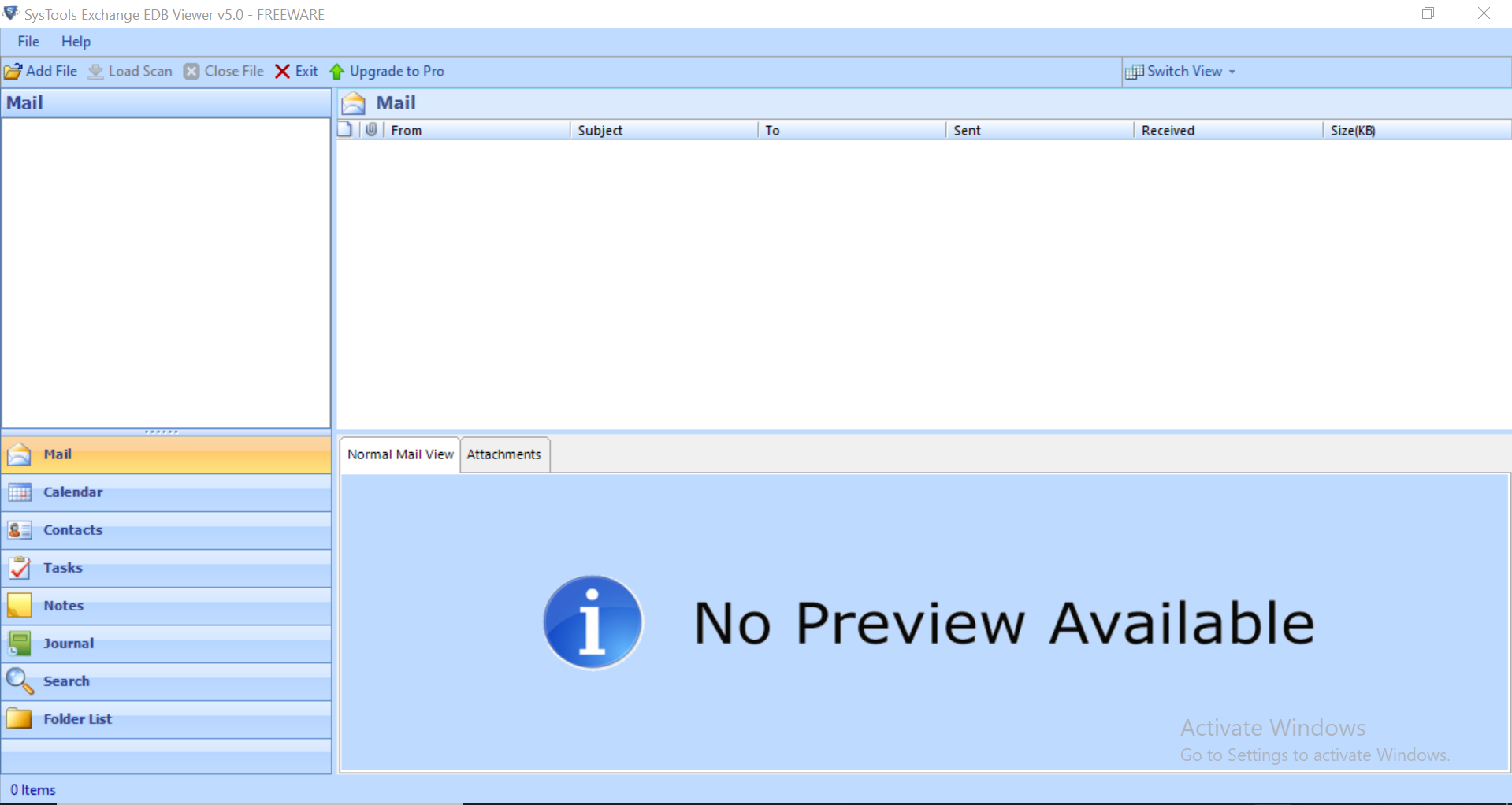 Step 2: Select the Add File button > Load offline/dismounted Exchange EDB file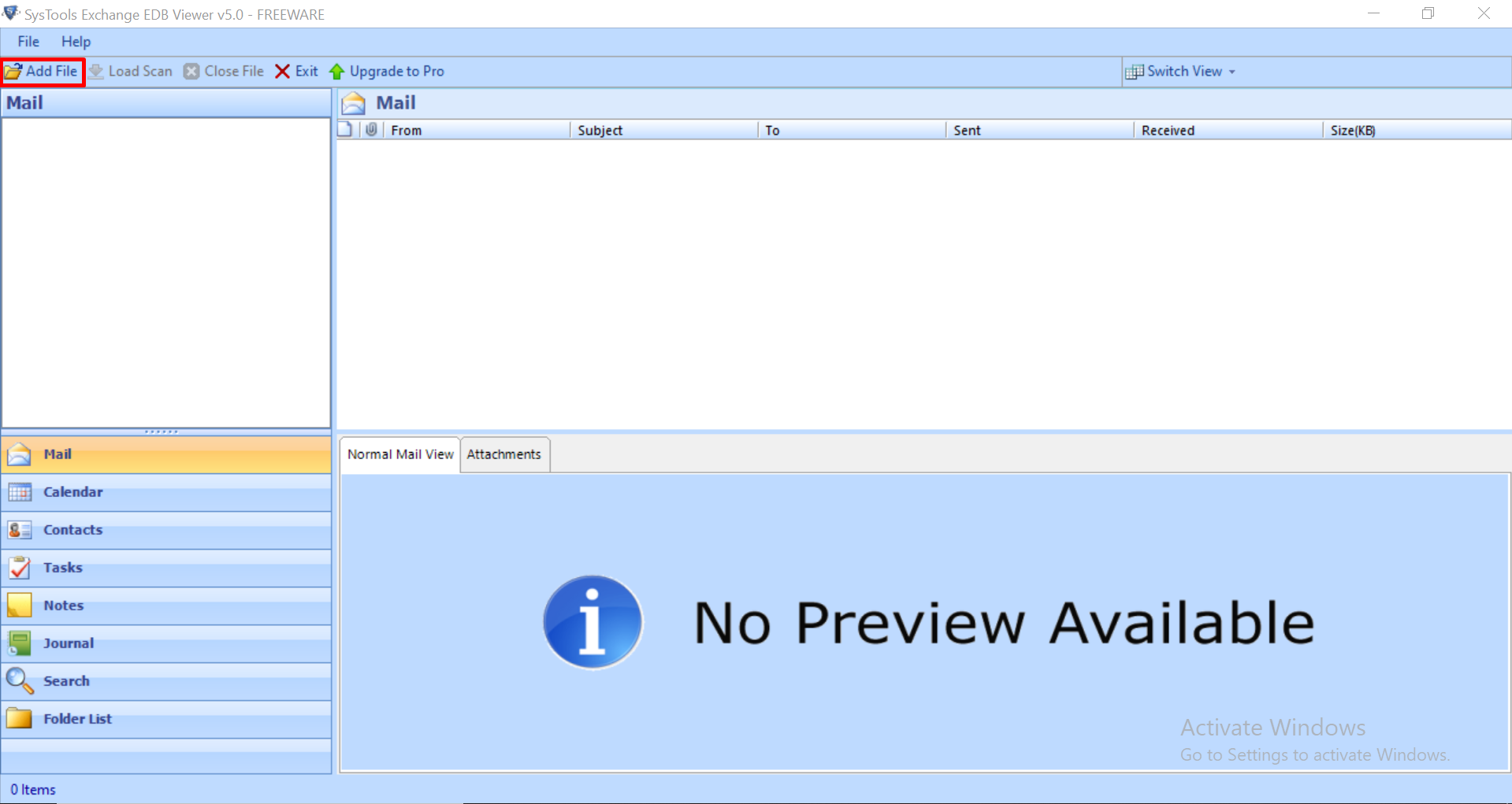 Step 3: Click on one of the scan mode option to recover damaged .edb file > Click on the add button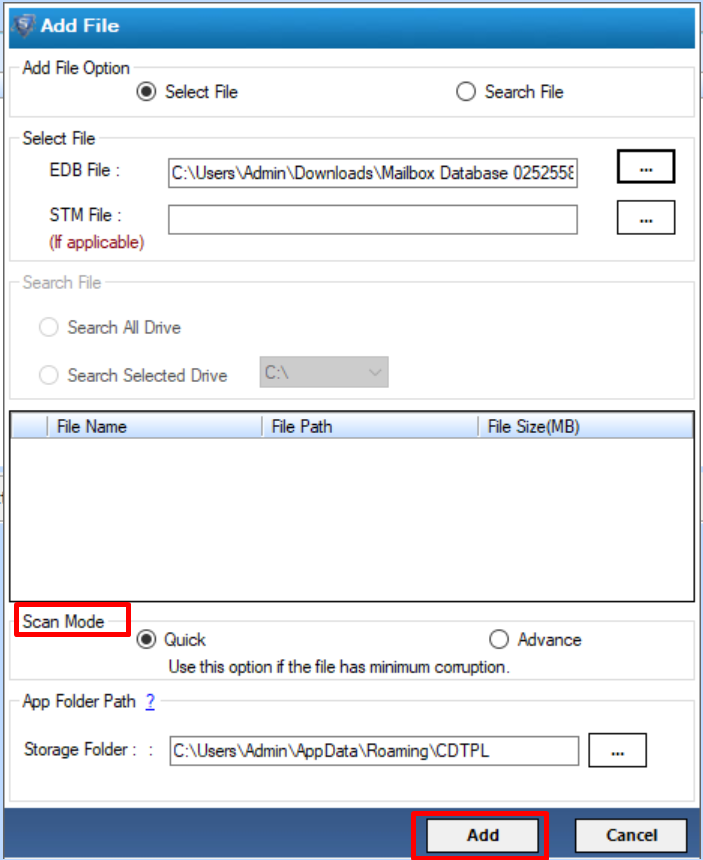 Step 4: View the healthy and recovered Exchange database file mailboxes items along with attributes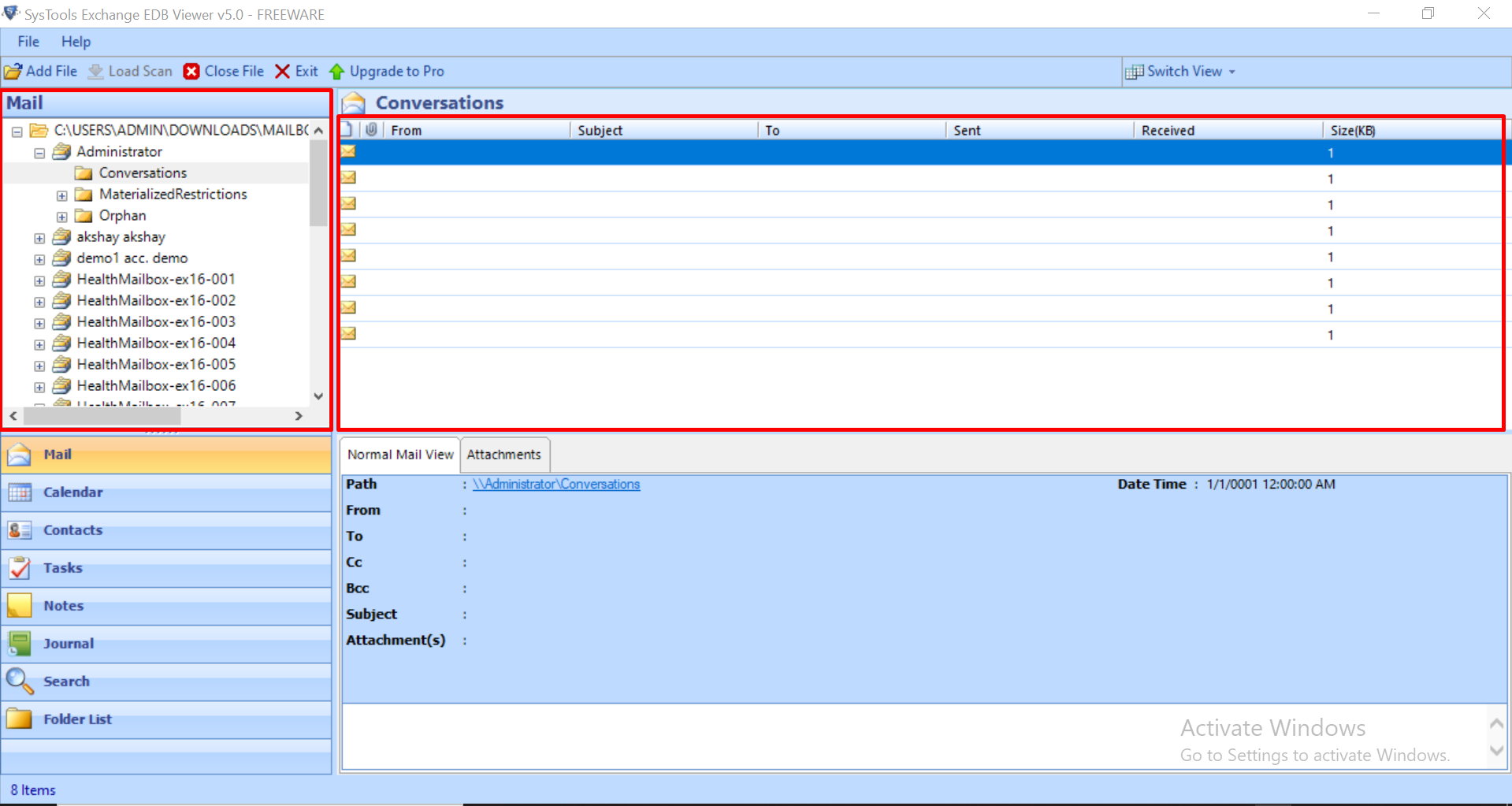 Manual Techniques to Open EDB Files Outside Exchange Server
Manual methods are classified on the basis of the working condition of Exchange database files.
State 1: When EDB File is in Operational Form
In this case, when Exchange database file is inaccessible condition then, users can follow this resolution technique:
Method 1: Using Microsoft inbuilt utility
Download Exchange Server Mailbox Merge Tool.
Open the search bar of Google and search for 'search.exe'.
Download the Exchange Server mailbox merge application.
Launch the software and select Extract and Import >> Next.
Convert Exchange EDB into Outlook PST file format by clicking on Import Procedure >> Archive data to target store and then Ok.
Select the message details and hit enter button then Ok.
Choose the Exchange mailbox for exporting then click on Next button.
Browse any location to export the file and click Export Process Complete >> Finish.
Now, all the Exchange EDB files are converted into PST file format. Users can open them now with help of Outlook.
Method 2: Export EDB File in PST by Exchange Admin Center Usage
By this manual technique, users can open EDB files outside Exchange server Via admin center of Microsoft Exchange Server. You can export Exchange mailbox to PST file format.
For exporting and storing Exchange EDB files in the shared folder, users must follow these statements sequentially:
First, create a New Shared Folder on another OS drive.
In Permission tab, click on Folder shared and security level.
To grant export authorization to the mailbox, select Organization Management and then, click on Exchange Admin Center.
Hit a click on Permission and open the Recipient Management.
Select Add on the Role >> Choose role >> Mailbox Import items >> Ok
To export mailbox into PST file format, open EAC.
Choose the desired mailbox and hit a right click on Mailbox icon >> Select export to pst file option, then click next >> Insert UNC path and click on next button >> Press the finish button
To view the resultant data content, go to the location where you saved the shared folder.
Pros: Free of cost techniques
Cons:
Users must have the technical knowledge to work with them to open EDB files outside Exchange.
It is a time-consuming and complicated method.
Doesn't work with unhealthy/damage/corrupted EDB mailbox and risk of data loss.
State 2: When EDB File is Corrupted or Dismounted
If the EDB file is corrupted or dismounted and the Exchange server is unable to open this, users will need to open that file without Exchange. Therefore, this section contains the solution to open corrupted EDB without an Exchange environment.
Pro Tip: You can use the Exchange EDB to PST Converter software which is used by various IT professional, Exchange and Naive users to export offline/dismounted public and private EDB file and mailbox to PST & various file formats along with all data items without any data loss. It can effectively export shared mailbox to PST Exchange 2010 / 2013 / 2016.
Bringing It All Together
Exchange Server uses EDB data files to store their entire data items. Exchange upholds the entire process of mailing, managing tasks, maintaining address book etc. By using command lines of manual methods, the EDB data files can open easily without Exchange. The entire manual technique seems very demanding and tricky to execute. Therefore, we provide an automated option i.e. Exchange EDB Viewer to make this task uncomplicated. It is very simple and easy to open EDB files outside Exchange Server via this utility.