Best SQL Database Repair Tool in 2021 to Recover Corrupt MDF File
Shini Mohan
| Modified: November 25th, 2021 ~ 5 Minutes Reading
Are you looking for the best SQL database repair tool to repair corrupt MDF file and access your data? Then you don't need to worry.
Here we will give you the quick guide you on the best tool to recover SQL database files developed by SysTools and its features. In this blog, we will come with the best SQL recovery tool. So read on to find the best tool that meets all your needs.
SQL Server is a widely used relational database system provided by Microsoft. It helps the user to store and retrieve data from the database. SQL Server supports two database files, MDF and NDF.
The MDF is a primary database file and NDF is a secondary database file. It also supports Log file that used to store the log information. To protect data from corruption and errors, Microsoft always advised that regularly backup the SQL database. Backup (.bak file) can be easily restored to the SQL Server Database using SSMS or using T-SQL.
In the coming sections, we will discuss the best SQL Recovery tool. But first, we need to know what causes SQL Database corruption.
Reasons Behind SQL Database MDF File Corruption
There can be many reasons for database corruption. Here we have listed the main reasons that cause corruption in SQL.
Hardware Failure
Improper Shutdown
File Header Corruption
Virus Attack
Upgrading to SQL Server
Modification in SQL account
Stored SQL database in a compressed folder
Page Level Corruption
Best SQL Database Repair Tool in 2021
SysTools SQL Recovery Tool is the best and 100% secure software that you can use to repair corrupt SQL Database MDF file as well as NDF files. This software offers all features that every user would like to have in a recovery tool. It has a user-friendly interface that enables you to recover SQL database files without having strong technical knowledge.
The Best SQL database recovery tool supports each and every version of SQL by which you can easily recover MDF file of SQL Server 2019, 2017, 2016, 2014, 2012, 2008, etc. There are no file size limitations associated with this tool. The best feature we liked the most is the Export option. With this, you can easily save the recovered data directly to the live SQL Server Database via login credentials or CSV File Format or export SQL Server data to SQL Script. In simple words, you can repair and restore the SQL database without doing other formalities. Also, using this tool you can easily fix SQL Server Page Level Corruption.
How Does the Best SQL Database Repair Tool Work?
Now, let's know how this tool works to repair corrupt MDF file and restore database in SQL Server.
Step 1. Download the SQL Recovery Tool, install and launch it on the system.

Step 2. Click the Open button and select .mdf file to recover SQL database file.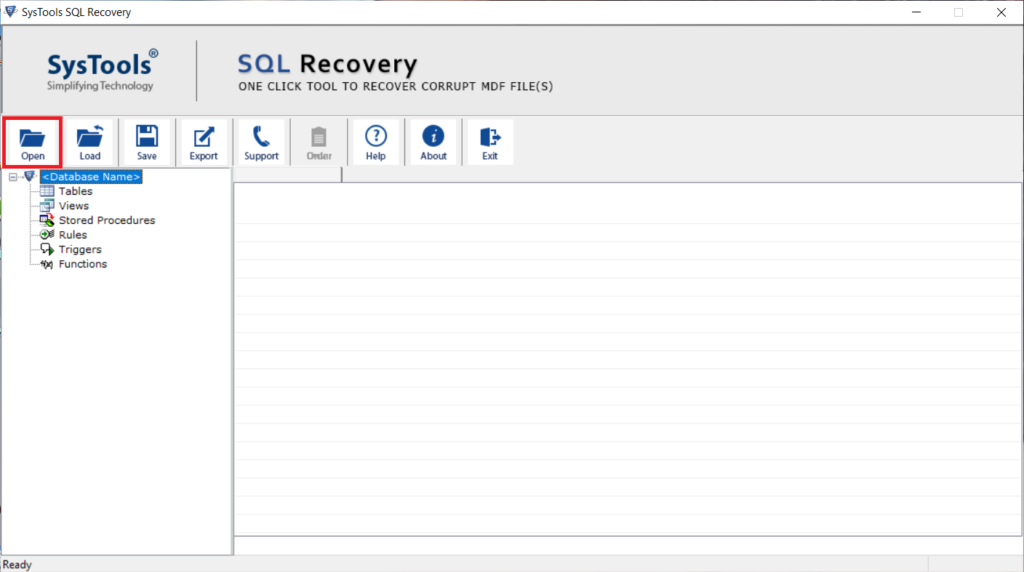 Step 3. Select the Scan Options from Quick and Advance then select version of the SQL MDF file. Or you can simply check the Auto-Detect option if you don't remember the actual version of the MDF file. Users can also check the Recover Deleted objects option to restore deleted data.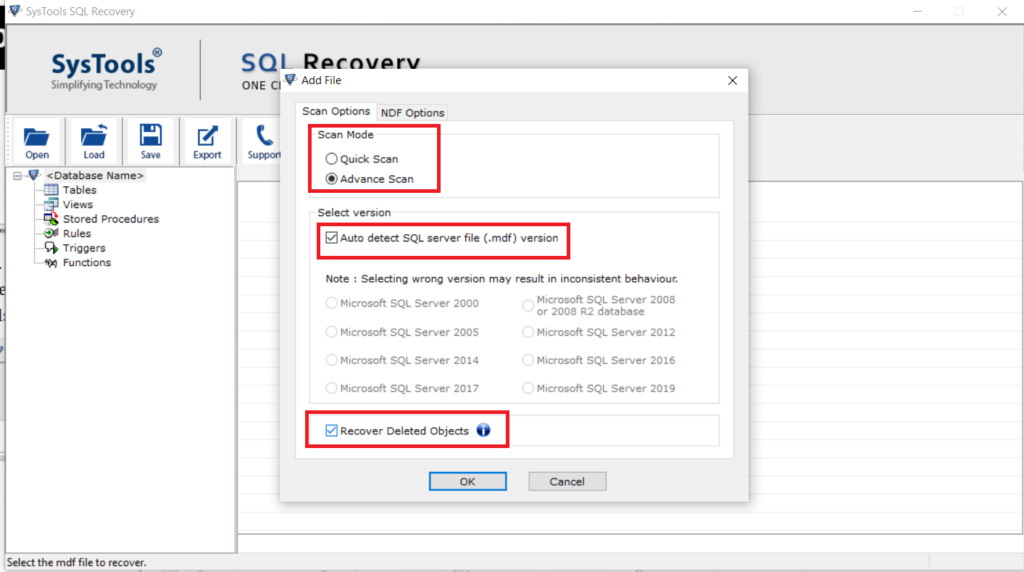 Step 4. The scanning process will start. Once it is over, you can see the preview of recovered data by clicking them.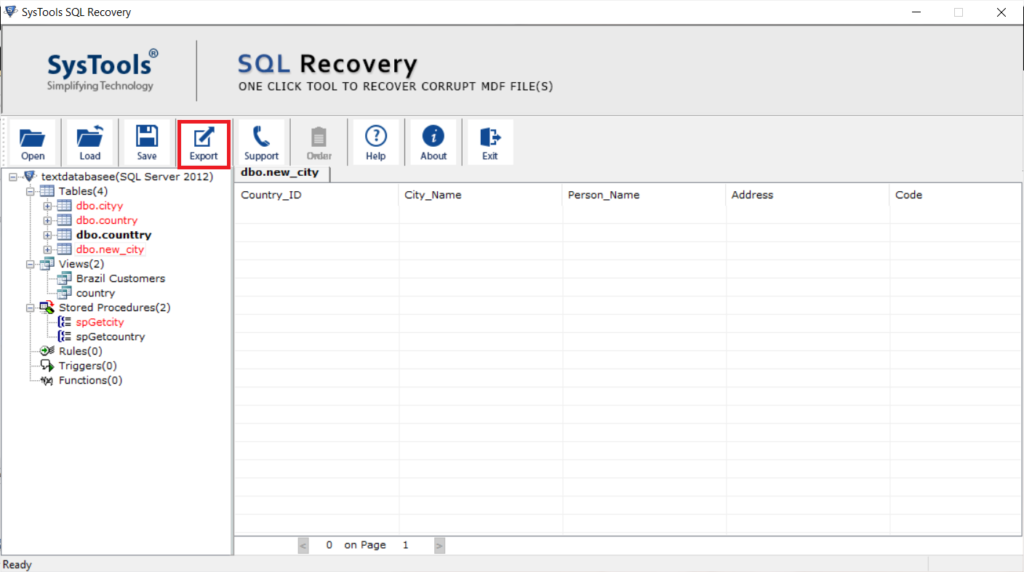 Step 5. Now, it's time to restore SQL database. Click Export and select export data to SQL Server Database or SQL Compatible Scripts or CSV File format according to your needs.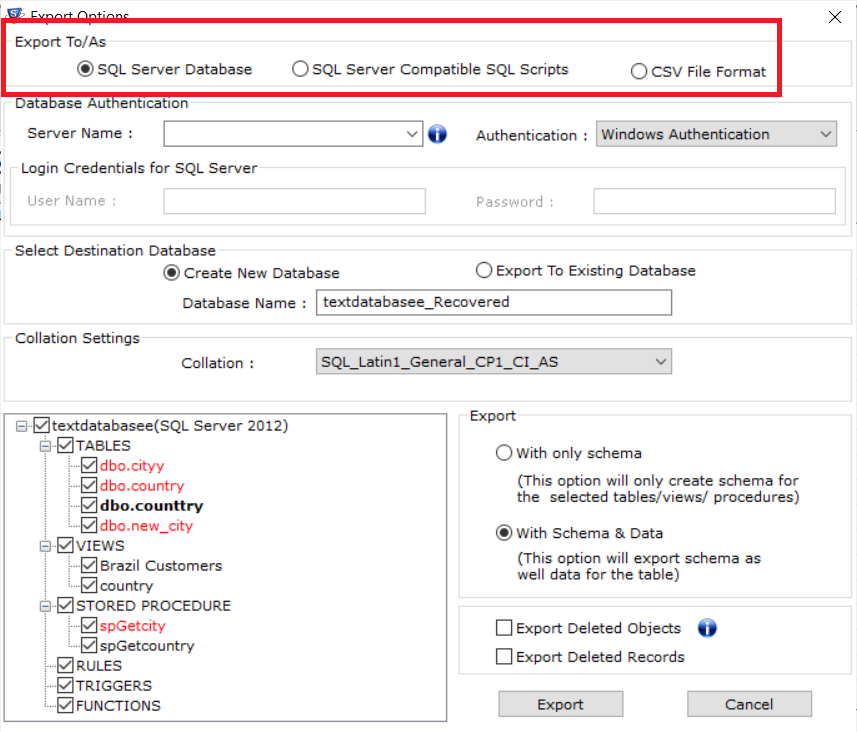 Step 6. If you want to restore MDF file in SQL Server database, enter the login credentials of your SQL account.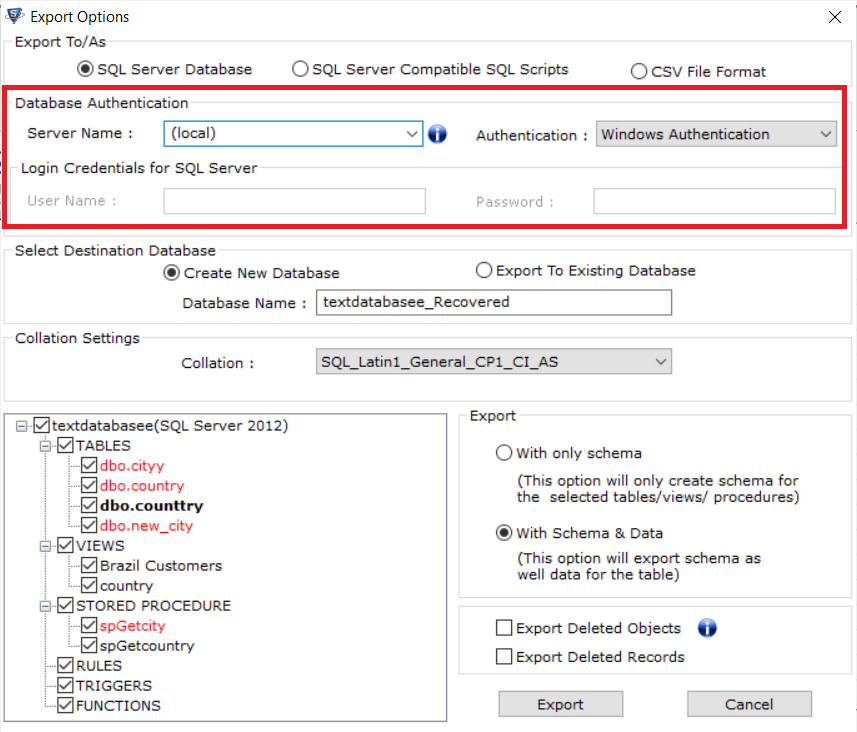 Step 7. Select Destination Database option between Create New Database and Export to Existing Database.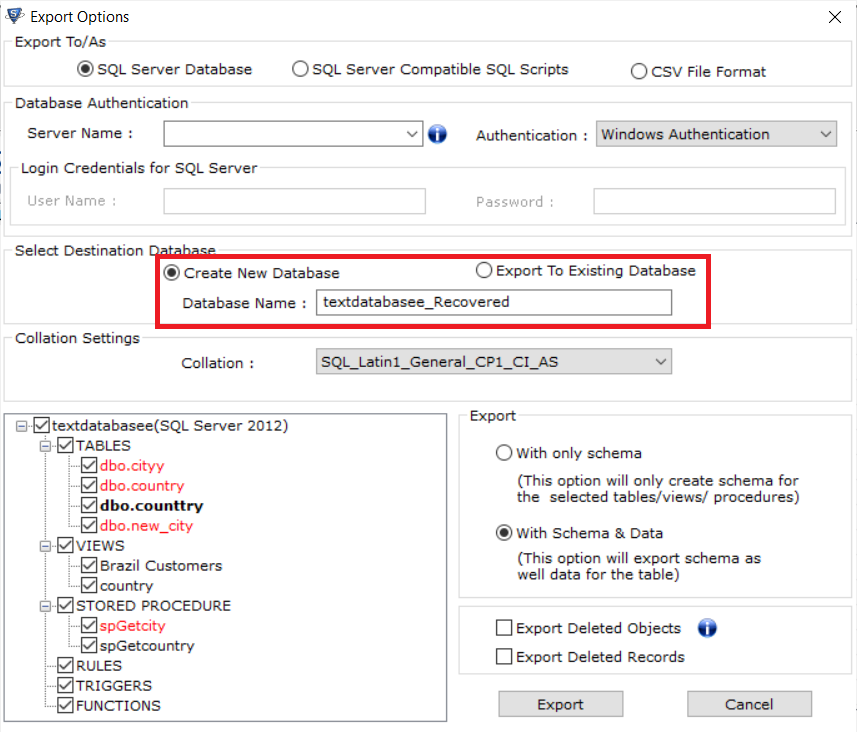 Step 8. Now, check the SQL Database items which you want to export.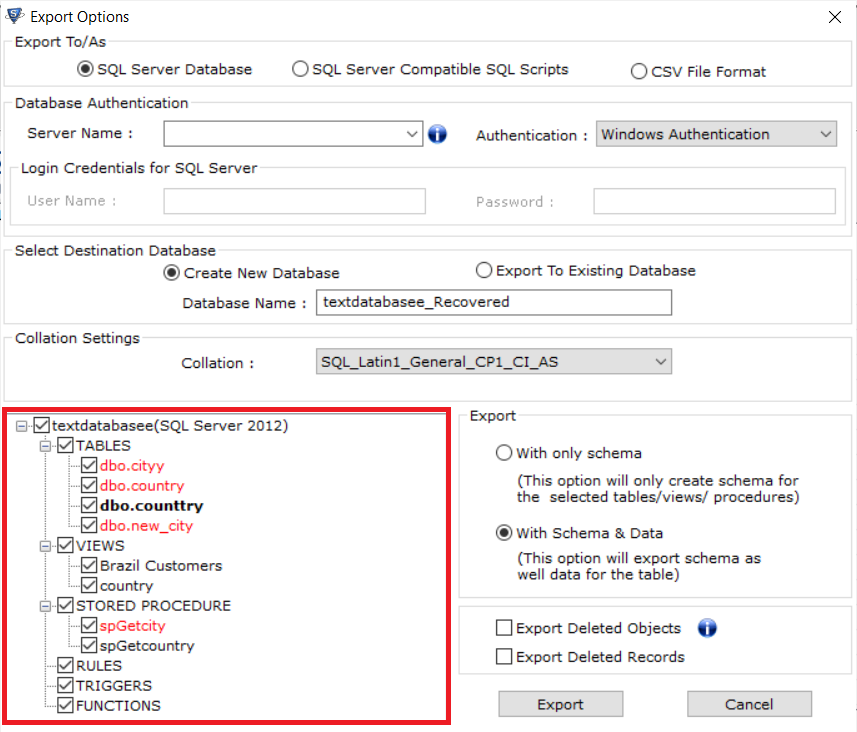 Step 9. Select Export with only schema or with schema & data both. Click Export to start the restore process.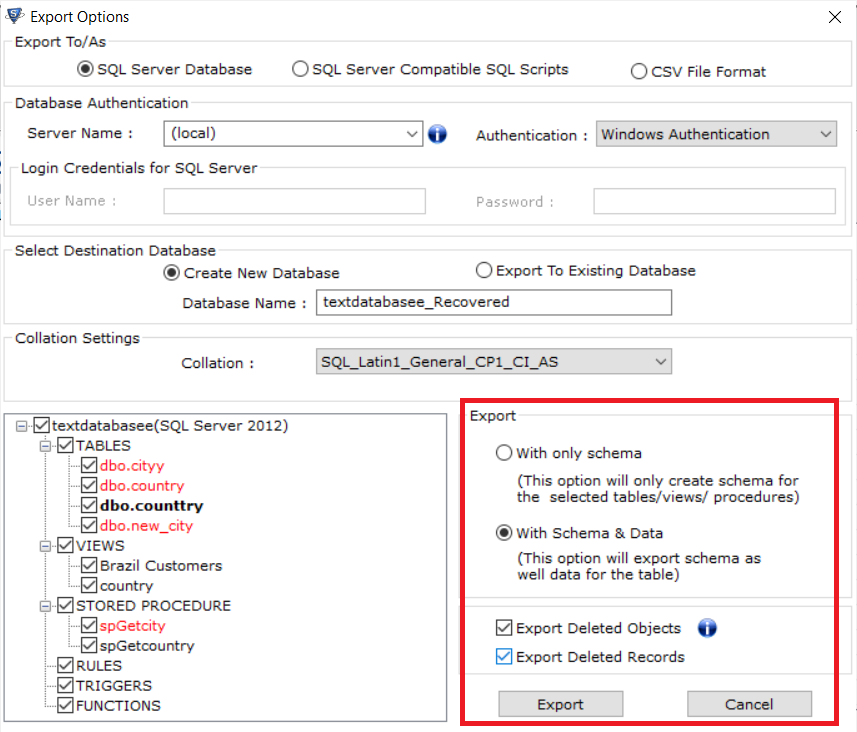 Finished! This is the overall working of this best SQL Database repair tool to fix corrupt database files.
You May Also Like:
Features Provided By Best SQL Database Repair Tool
Best SQL recovery software provides various features that make it unique to others. In this section, we will know about some highlighted features of the tool:
Easy to use interface that useful for all inexperienced users
Recover SQL Database file without backup and additional utilities
Repair corrupt MDF file and NDF file with database objects
Display a quick preview of recovered data like tables, views, triggers, etc.
Export data from SQL Server to CSV file, or SQL Server Compatible Script
Save recovered data directly to the live SQL Server Database
Compatible with all versions of SQL Server including SQL 2019
Restore deleted database objects and records from the SQL Server table
Also Read : How to Move Table Data From One SQL Server to Another
The Final Thoughts
The recovery of SQL database corruption is not that difficult if you have the best SQL Recovery Tool. In this blog, we discussed the best software that can repair corrupted MDF file. We have suggested the SysTools SQL Database Recovery tool that works great and free from virus attacks. I hope this blog helped you to find the best SQL Database repair tool.