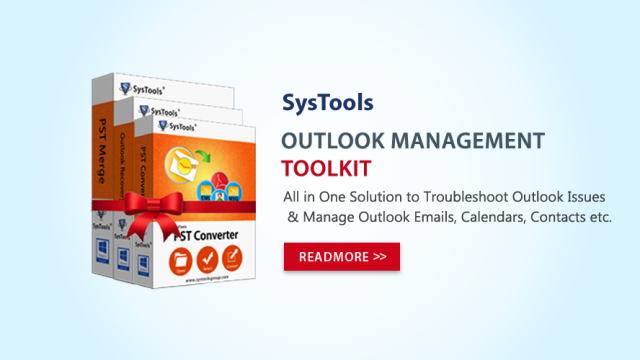 Here, we are going to discuss Outlook Email Management Toolkit by SysTools, one of the leading data management solution providers. The organization offers multiple solutions in the field of data recovery also to recover lost or permanently deleted data also. Read complete to know about specialized software to manage Outlook data i.e. Outlook Toolkit by SysTools
Every organization has a different way of managing their mailbox data with the help of email client they are using. But most of the times, it has been seen that Microsoft Outlook is the topmost of the users across the globe. However, it is a one time cost and offers almost all much-needed features to manage mailbox data. As it is used in large size organizations also for email communication and exchange information so, contains lots of crucial data. Sometimes it becomes difficult for the users to manage their Outlook mailbox. Hence, here we are going to review a toolkit named as Outlook Email Management Software that can easily fulfill the requirement of every size of the organization. This Outlook toolkit offers number of powerful utilities that will be helpful for almost all type of organizations.
SysTools Outlook Email Management Toolkit Overview
Being a technical analyst, my job is to analyze the efficient tool designed by an organization. Therefore, today I am going to discuss a toolkit application that permits users to manage their Outlook mailbox in an efficient manner. However, there is number of tools available online, but all of them are not complete solution to manage Outlook data. After trying large number of software, I can say that SysTools Outlook Email Management toolkit is the best solution to rely on. It is an all-in-one solution to handle and optimize Outlook profile in a proper way.
A Brief Introduction of SysTools Outlook Toolkit
The SysTools Outlook Management toolkit is a complete package to overcome all type of problems faced by Outlook users. It permits users to manage issues like the large size of the mailbox, corrupt PST file, a large number of data, etc., in an efficient manner via multiple powerful modules. The toolkit is beneficial for the organization having a large number of employees to manage. With the help of self-explanatory interface and easy-to-use modules, it becomes easy for the users to manage and optimize multiple Outlook profiles.
Major Highlights of SysTools Outlook Toolkit
There are total four modules available in Outlook Management Toolkit that will let users overcome almost every single problem of Outlook. Now, to have a brief overview about these modules of Outlook toolkit, I have reviewed all of them below:
#1: Outlook Manager Module
There are number of issues solved by this Outlook Manager module and make it easy for the users to manage their Outlook profiles. Major ones of them are discussed below:
A simple tool to locate PST file with its attributes like file size or profile name. In addition, the tool works best on active PST file also without interrupting on going process.
If a user wants to add multiple PST files to Outlook account, then this management toolkit is the right choice. The software is capable to add both ANSI and UNICODE type PST file. Moreover, it does not impose any file size limitation while adding PST file.
Allows to locate, search, and analyze duplicates from multiple PST files in batch. Apart from this, a user is also allowed to export duplicates into either single or separate PST file(s).
This will permit users to extract and save attachment from any number of Outlook emails. Moreover, it keeps all meta properties intact as original while saving emails from multiple folders.
#2: Outlook Converter Module
Migration from Microsoft Outlook will become easy for the users with the help of this Outlook toolkit. Some points mentioned below will justify the same:
#3: Outlook Organizer Module
If Outlook mailbox data is not organized properly, then it might start creating issues. Hence, to keep PST file data in an organized manner, one can go for this Outlook Email Management Software and avail all listed below facilities:
After using Outlook for a long time, users start facing size related issues. It is because PST file is about to reach maximum defined limit. Thus, to prevent corruption and performance related issues in Outlook, its better compress size of PST file. This Outlook organizer module will be helpful in the same.
Sometimes, it becomes difficult for the users to manage multiple PST files at once. So, SysTools Outlook Email Management Toolkit will help users out in the same. It will combine multiple PST files into one. Moreover, one can merge both ANSI and UNICODE type of PST files without any hassle.
If the Outlook PST file is about to reach the predefined size limit, there are chances that PST file will get corrupted. But, with the help of this Split PST software, a user can divide large size PST file into multiple parts. In addition, a user can split large PST file by year, by date, by size, and by folder. This will let users in managing the PST file in the way they want.
Keeping duplicate data in Outlook will occupy unnecessary space and increase mailbox size. Thus, it will be better if a user delete these duplicate data items from Outlook. The toolkit will make this task very much easier for the users. Moreover, it will free-up some of the storage space also to store new data.
#4: Outlook Recovery Module
Any type of data loss or corruption can leave mailbox in an inaccessible state. Thus, to get access back, it is important to perform recovery. This module of Outlook toolkit will help users in the same.
Dealing with corrupt PST file will be become easy for the users with the help of Outlook Email Management toolkit for the users. It is capable to repair even badly damaged PST file also without any hassle. In addition, it keeps folder hierarchy intact as original after recovery. One can recover all data items like emails, contacts, etc., from PST file.
The Outlook Recovery module in the toolkit is capable to repair corrupt or inaccessible OST file. After that, a user can easily access the OST file data in Microsoft Outlook. In addition, it does not require MS Outlook installation on the local machine to recover OST file.
Conclusion
After using this Outlook Email Management software, I can easily conclude that it is a simple and perfect toolkit for the Outlook users. This will make it easy for the users to manage their mailbox data efficiently. All modules of Outlook toolkit are equipped with so well that it overcomes all issues related to PST file in hassle-free manner.