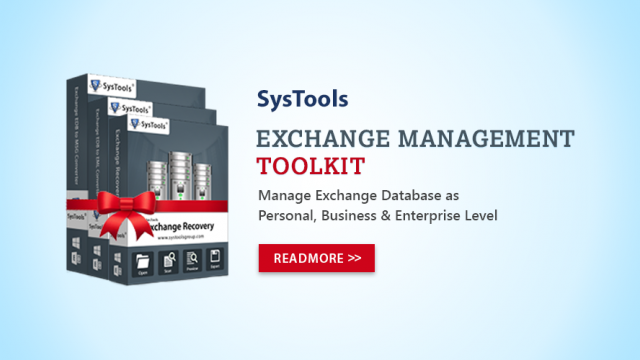 What's New to Manage Exchange Database?
SysTools is a renowned organization that provides excellent product in the field of Exchange Server Management. They launch the highly versatile Exchange Management Toolkit that manages Recovery, Conversion, Import or Export operation of Mailboxes. In addition, the number of unique features is offered by the Exchange Toolbox to deploy the process smoothly. Let's get started to understand about the SysTools Exchange Management Toolkit in detail.
Major Features of Exchange Management Toolkit
As everyone knows, data is a crucial thing that requires a proper management. If the database file gets corrupted, then all the important data will be gone. Especially, when users dealing with the Exchange Server, data file corruption means loss of sensitive data that is required to build a business. Now, go through every aspect of the Toolkit below:

Every Organization that uses Exchange Server has a major concern on how to repair the damaged database from MS Exchange. As we value the sensitive organization data, that's why we bring Exchange Management Toolkit. The back-end of the software is too strong that it can easily recover highly corrupted Exchange EDB file. And, securely retrieve all the emails that are stored in it. Also, it can recover deleted email messages smoothly.
One only needs to provide the Priv.edb (Private folder), Pub.edb (Public folder), or STM files in the software. After that, with the help of Advance Scan, the .edb file gets repaired and can be exported. A user can efficiently export the recovered Exchange Database file in five different formats such as HTML, PDF, MSG, MBOX, EML.
Moreover, Exchange Management Toolkit does not stop here, they can easily move EDB emails, contacts and many more to Live Exchange Server, and MS Office 365. Furthermore, any folder information will not be changed during the entire database recovery process. The user will receive the exact copy of the data after the process. Also, with the help of filter facility, the user can retrieve the specific data only. It supports versions like Exchange Server 2016/2013/2010 and all the below editions.

Exchange Server mailbox store information of the account such as emails, appointments, and contacts within a database. The Mailbox data is saved in Extensible Storage Engine with file extension .edb on the Exchange Server. Many times professionals require individual files in a different file system to store mailbox items. In this case, users can convert the Exchange Mailbox file format into MSG file format with the help of Exchange Management Toolkit. MSG format is used to store single items in the file system. Besides this, there is no requirement of Microsoft Exchange Server environment to execute the process.

If the Home-users or Professionals are interested to move Exchange Server Mailboxes data into Lotus Notes, then this tool never disappoint them. With the help of Exchange Server Management tools, one can easily export EDB files into IBM Notes without any single bit of loss. To perform this, the user needs to have Lotus Notes application installed on the local machine. The best part of Exchange Management Toolkit is that it firstly heals EDB files, and then convert into NSF file format. Moreover, it provides the facility to make names.nsf file for all the contacts saved in the Exchange EDB file.

MBOX is the file format that is supported by the number of email clients. If the organization wants to import .edb file to different email clients. Then, it is beneficial to convert Exchange database to Message Box file format. Altering EDB file format to MBOX become easier with the Exchange Management Toolkit. The tool interface is designed in such a manner to export all email folders from Exchange Profile to MBOX file. In addition, it creates separate .mbox file for each mailbox folder. After the conversion, one can display and import the file into different MBOX supported email clients. The Exchange Server Toolbox provides exact information of the files and folder as previously saved.

Portable Document Format or PDF is a format that is universally accepted. It can be easily viewed on any system. Also, the legal professionals trust PDF file format because it is admissible in a court of law. In addition, multiple restrictions feature makes PDF more protected. That is why many professionals prefer to convert their emails in Portable document file format. For this, Exchange Management Toolkit provides a strong interface that smoothly converts the multiple Public and Private EDB file in portable documents. Even if .edb file is corrupted, it first repairs & recovers the file and then converted into PDF format.

Exchange Database Management Tools extracts each and every data from multiple Exchange mailboxes to EML format. With the help of this, users can store the files as a backup locally on the system. Also, the converted files can be easily opened in Outlook Express email application. Besides this, during the conversion process, one can use Date and Time Filter. This filter helps the Exchange admin to convert only the relevant data by maintaining the folder hierarchy into EML format. In addition, the file naming convention option is available to sort out the Server emails.

Home-users or Organization faces problem while moving Outlook PST to Exchange Server Mailbox manually. In such a scenario, they require a professional tool to save all the Outlook emails from PST file to Exchange Server. For this, it is suggested to use the Exchange Management Toolkit for the same. Furthermore, it imports all data items such as emails, contacts, calendars, etc., from the Outlook PST file. Also, proper folder mapping is perfectly achieved by the Exchange Toolkit. So, a user will receive the same data items in their respective folder.

In order to migrate EDB files to Outlook supported PST format, this Exchange database Management Tools always fulfills your requirement. It permits users to import resultant PST files in any version of MS Outlook without any problem. With the help of Exchange Toolkit, users can migrate all data items like tasks, journals, or emails from EDB to PST file. The intelligent algorithm of Toolkit auto detects and loads the Active Directory configuration. Also, the software automatically explores Exchange mailbox with the sub-domain easily.
The Final Verdict
One who faces several problems with the EDB Database can use SysTools Exchange Management Toolkit to overcome the problems. It is a one-stop-shop solution that is beneficial to manage issues like database conversion, Mailbox recovery, migration and database corruption. So, get all the database related issues fix within a few clicks.