Export Exchange Mailbox to MSG File: Reason to Know Why?
Admin
| Modified: September 15th, 2021 ~ 5 Minutes Reading
Exchange emails play a significant role in an organization. It comprises of business confidential data, project details, company policies, accounts information, etc.. If in case of any disaster happens to the Mailbox / Emails in the future it can be used for recovery. That's why it is important to export Exchange Mailbox to MSG file format.
EDB emails are a crucial part of any IT organization, which contains confidential and personal data and all this is managed by Exchange Server. There are so many issues that the Microsoft Exchange Server faces and the most common one of Exchange Database corruption.
There are many inbuilt checks to make sure the quality of the database, even then the EDB file gets corrupted. The reason behind this can be – system crash, hard drive failure, human error, virus attack, etc.. It needs the expertise to handle the Exchange Server and recover corrupted Exchange database file.
One-Stop Solution: If you are looking for a professional solution, which export Exchange Mailbox to MSG file. Then SysTools EDB File Converter is the best software that export EDB emails in batch and maintains the folder hierarchy.
Read More: Export Shared Mailbox to PST Exchange
Automated Solution to Export Exchange Emails to MSG File
EDB File Converter export multiple emails from .edb mailbox to MSG file format. The utility provides categories option which allow users to export the selected Exchange mailbox data items: mails, notes, journals, tasks, contacts, calendars from multiple mailboxes to MSG file.
It is developed with an advanced algorithm that helps the users to remove corruption from the Exchange Database file. It also provides the option to remove email encryption (SMIME/OpenPGP) from Exchange Mailbox.
The software offers Quick & Advance scan option recovers & repair Exchange mailbox and EDB file from corruption. To remove minimal corrupted Exchange database file using quick scan and to remover .edb file from major corruption select the advance scan option.
To recover permanently deleted emails from Exchange database file along with other data items and mailboxes use the advance scanning mode option. It recovers hard deleted Exchange EDB mailbox & items from dismounted/offline .edb file.
This utility export multiple Exchange mailboxes such as: user, archive, disconnected, legacy, shared, and data items: emails, contacts, calendars, notes, journals, tasks to multiple file formats.  If you want to convert exchange email to PDF file you can do it easily along with other mailbox items.
Features of Automated Software
Users can export private.edb or public.edb files
Quick & Advance Scan recover corrupt Exchange database files
User can export unlimited Exchange EDB mailbox emails
Migrate Exchange Mailbox to PST Outlook in a single shot
Installation of Exchange Server is not mandatory while exporting EDB file
Convert EDB to PST, MSG, EML, HTML, EML, PDF file formats
Support all Windows OS, Outlook & Exchange Server versions
Additional Features of Professional Software
Naming Convention: Users can save their file using proper naming convention offered by the tool to export Exchange Mailbox to MSG such as:
subject, subject + Date(DD-MM-YYYY), From + Subject + Date(YYYY-MM-DD), Date(DD-MM-YYYY) + From + Subject, Date(YYYY-MM-DD) + From + Subject, AutoIncrement, etc..
Date Filter Option: This feature allows users to apply date for a specific duration to export Exchange emails to MSG file format in a specified period of time.
Categories: Users can select particular Mailbox items from the categories option to export Exchange Database emails to MSG file. The users can select the desired Mailbox items such as Mails, Contacts, Calendars, Tasks, Journals, and Notes.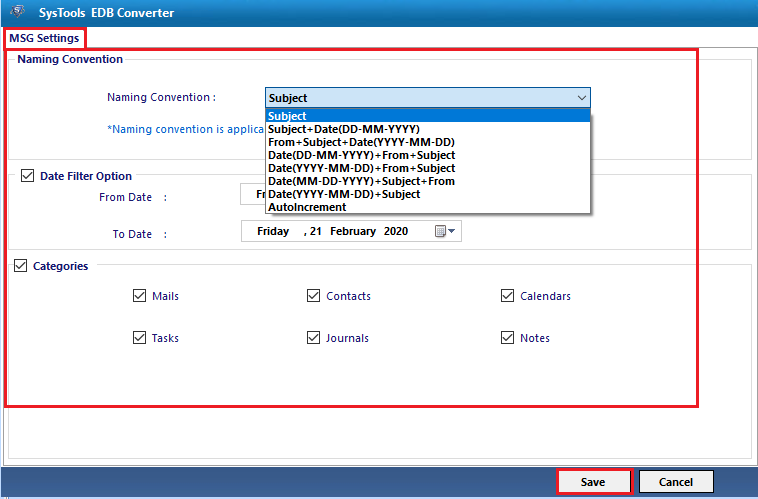 Steps to Export Exchange Mailbox to MSG File
Step 1: Download and Install the software.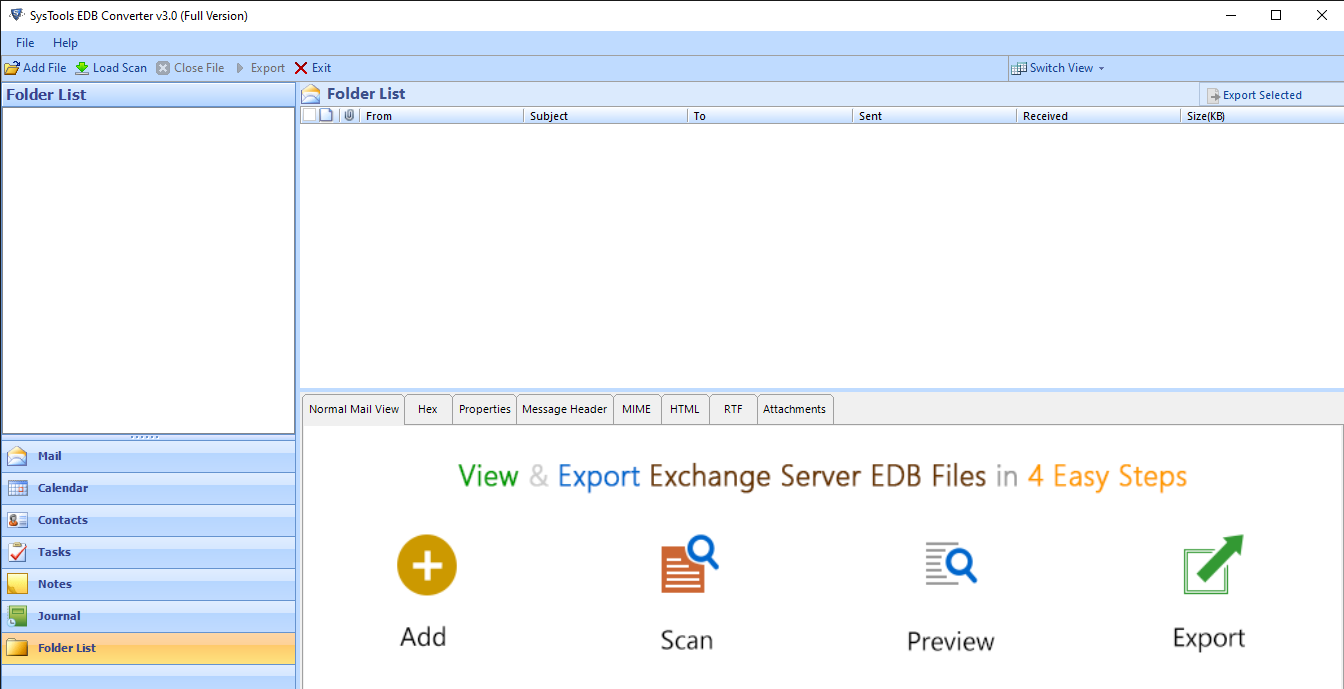 Step 2: Click on Add File and load the Exchange Database file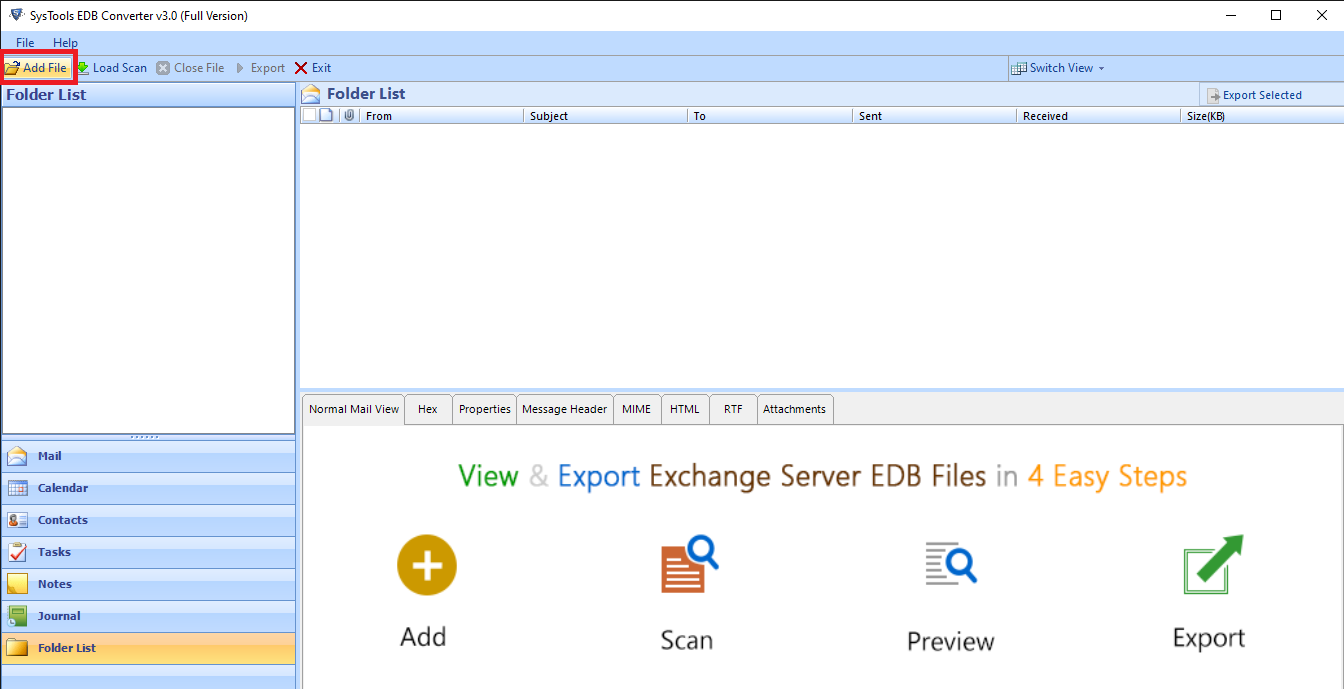 Step 3: Check all the required Emails and click on the Export button.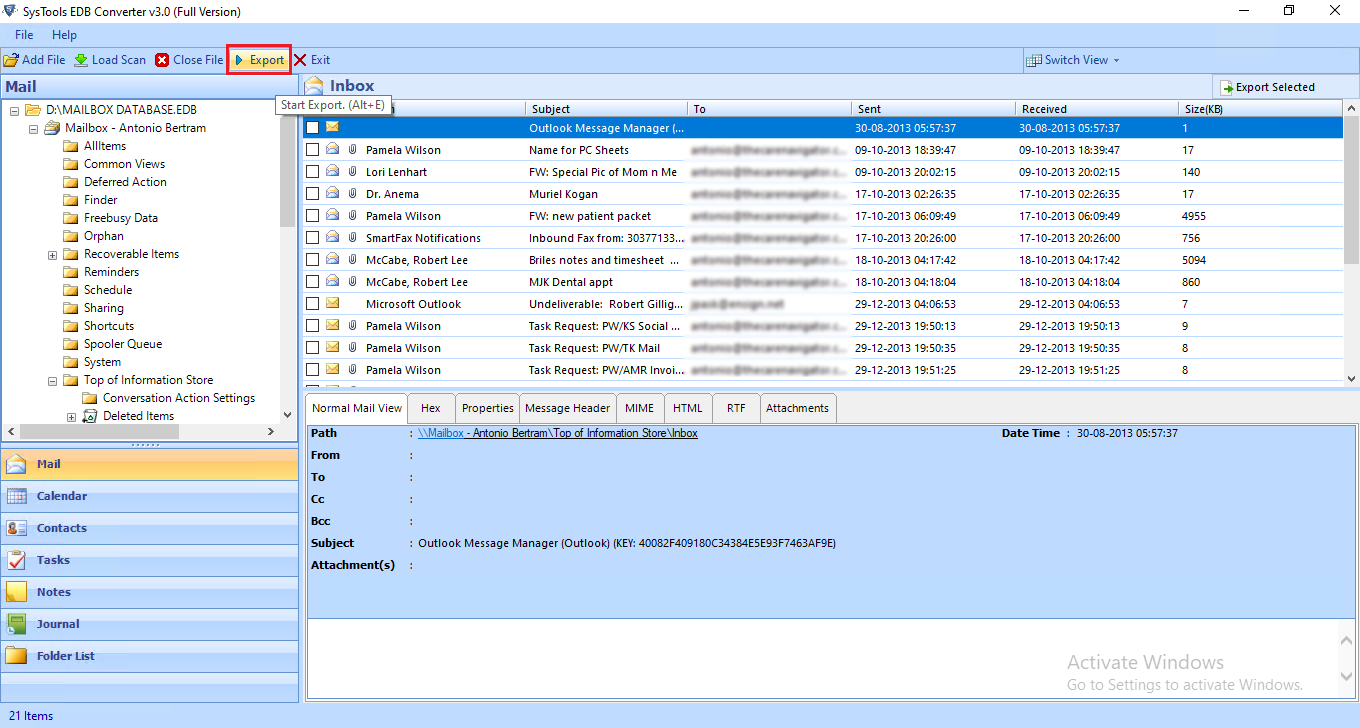 Step 4: Select the export type as MSG and click on the export.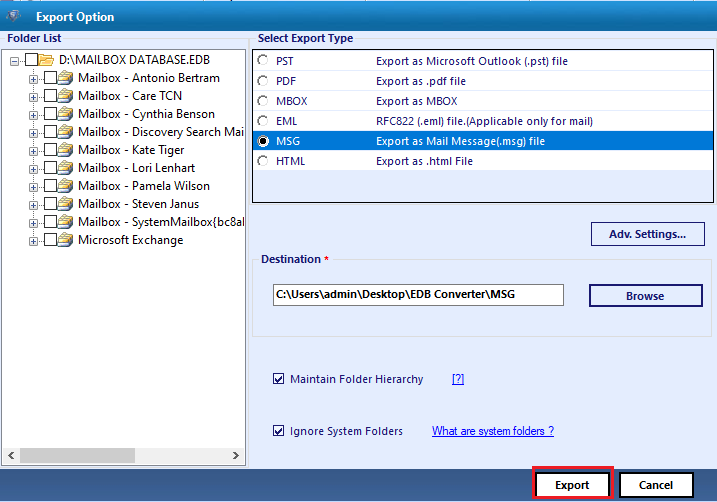 Why Choose this Software rather than Third-Party Tool?
This software helps users to recover corrupted and purged Mailbox with the help of advance scan mode. Users can decrypt (SMIME/OpenPGP) email encryption by check the remove encryption option. There is no loss of data when the user export Exchange Mailbox to MSG file.
The user can export multiple Exchange emails. While exporting the data software maintain Folder Structure, Metadata properties, and Data Integrity. The tool allows you to select or search the EDB file option. If users need any help the technical support is available 24/7.
Related: Export Exchange Contacts to Thunderbird
Bringing It All Together
The software provides a simple way to export Exchange Mailbox to MSG file with all the attachments and metadata. It exports Exchange emails in bulk without any data loss and saves user time and energy. You will able to recover corrupted and permanently deleted mailbox. The tool is all in one solution to Export Exchange emails to MSG file. Users can test and try the demo version of this software.