How to Convert Exchange Email to PDF: Best Method
Admin
| Modified: September 15th, 2021 ~ 6 Minutes Reading
"Our Company's Exchange Server Email contains confidential information like Company policies, Project details, Employees Information, Banking Details, etc.. Some time we lost our important Emails from Exchange Server. There is only one way with which any of our emails won't be lost and we can access them at any time. And the way is to convert all our emails into PDF file format. So that all employees can view Exchange Database Emails without any impediment. But the major problem is that we do not know how to convert Exchange Email to PDF? Please suggest us a professional solution."
Exchange Server is a mail and calendaring server i.e. developed by Microsoft. It is used in many big Organizations, Government as well as Private sectors. Employees are exchanging information through User Mailbox by sending and receiving email messages, create meetings and appointments.
Reasons to Convert EDB Email to PDF
Virus Attack
Jet Engine Error
Hard Disk Failure
Dirty Shutdown Error
Exchange Server Crash
Failure of Software and Hardware
Exchange Database File Corruption
Human Error (like Accidently Deleted EDB file, etc..)
So, to save email data with all these types of errors and issues. User needs to convert Exchange Email into Adobe PDF file formats. Additionally, there are several advantages of EDB Mailboxes Email to PDF conversion.
1. Users can access anytime without connecting with Microsoft Exchange Server.
Users can share Exchange Email via peripheral devices like Flash drive, Disk drive, Memory card, etc…
Portable Document Format is an open file format and it removes the dependency on any specific sole mail formats.
The PDF files can be open in any system. So, can view their Exchange Emails anytime without any dependency.
Users can save all their confidential information by convert EDB to PDF.
Users can free up the space of Exchange Server after the conversion of Exchange Email into PDF.
The organization can keep their important EDB Emails as a backup in Portable Document Format.
Methods to Convert EDB Mails to PDF
Although there are always two methods to convert one file into another. In this aspect, there are also two solutions to convert files. One is Manual and another one is Automated.
The manual solution is no such direct method through which users can convert their EDB Email into PDF. The first user has to convert Exchange Database into any other email client. Then convert from that specific email client into PDF file.
Manual Solution is not the correct approach to convert the Exchange database file into Portable Document Format. It has too many limitations like it is a very complex & time-consuming method. There is a chance of data loss while conversion and it doesn't provide a reliable and efficient solution.
But the Automated Solution is 100% reliable and efficient. Plus there is no data loss while converting from EDB to PDF. Users can use SysTools EDB Converter as the automated method to convert Exchange Database Mailbox email into PDF file format.
Related: Export Shared Mailbox to PST Exchange
How to Convert Exchange Email to PDF: Automated Wizard
EDB Converter allows users to select multiple Exchange Emails at once and then they can export EDB Email into PDF file format from offline/dismounted Exchange database file. It provides categories filter option that converts the selected Exchange database mailbox items such as: mails, notes, tasks, calendars, journals, contacts to Portable Document Format.
The software removes email encryption (SMIME/OpenPGP) from Exchange Database Mailbox. The tool has an interactive user interface and can convert any size of the EDB file in a hassle freeway.
This utility also export Exchange Mailbox to MSG, PST, PDF, HTML, EML file formats. Along with the mailboxes, it also exports data items from EDB Mailbox.
It provides scan mode options such as Quick and Advance scan, which removes corruption from the Exchange database file & repair Exchange mailbox. According to the level of corrupted EDB files, you can select the given scan option. Also, the advance scan mode recovers purged Exchange data items and mailboxes from the loaded .edb file.
Now users can easily recover permanently deleted emails from Exchange EDB file using the given advance scanning option. You can migrate Exchange mailbox to PST to keep the data safe & secure.
When users export mailbox from offline Exchange database to the selected file format, the tool automatically creates the export report in CSV file format which saves the success and fail count of exported Exchange data.
Automated software overcomes all the limitations of the manual solution. Users can select and convert Multiple Exchange emails in a single shot. This software is easy to configure and use. It provides an interactive graphical user interface and the user does not face any data loss while converting the EDB file.
Features of Automated Software
Convert mailbox items: emails, contacts, calendar, task, journal, notes
Extract EDB to PST, EML, MSG, PDF, MBOX, HTML file formats
Date and Category Filter option for selective data conversion
Convert pub1.edb to PST and private Exchange database file
Maintain Folder Hierarchy and Integrity while converting EDB to PDF
Provide dual scanning option to recover corrupt Exchange database files
The Software supports all Exchange, Outlook & Windows Operating System Versions.
Stepwise Method of How to Convert Exchange Email to PDF
Step 1: Download the software and install it.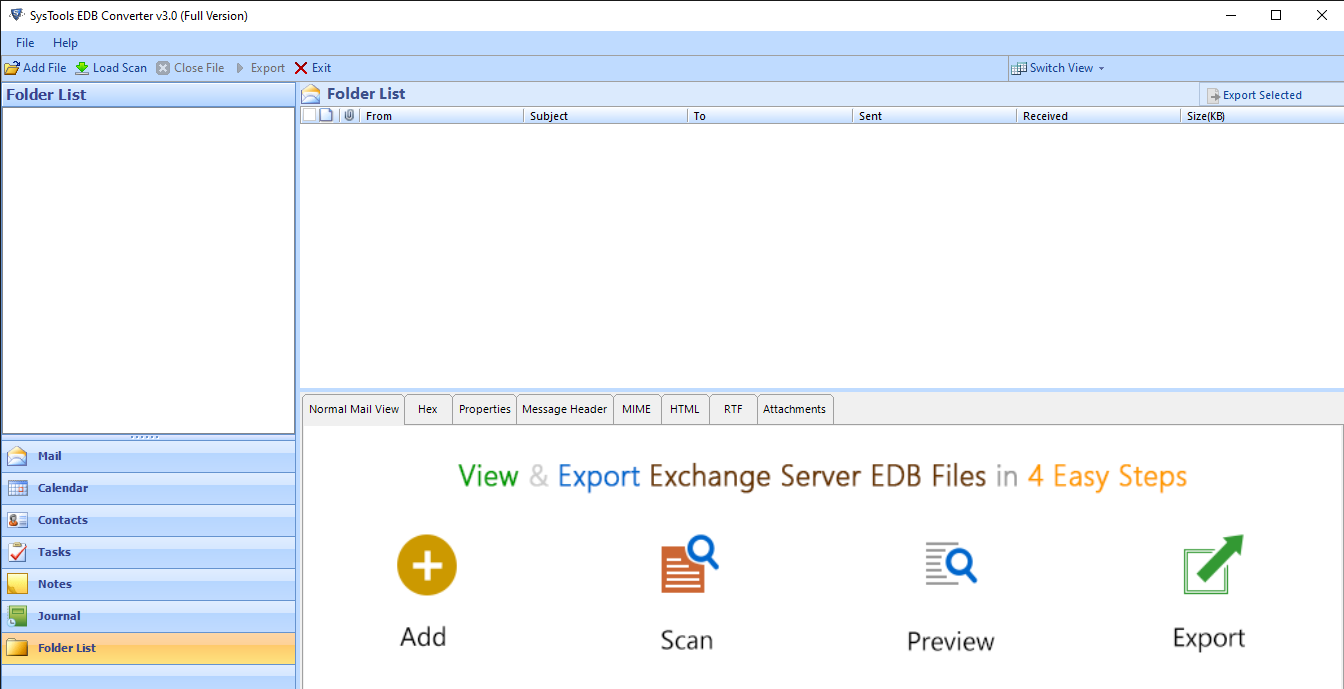 Step 2: Click the Add file button to add EDB file.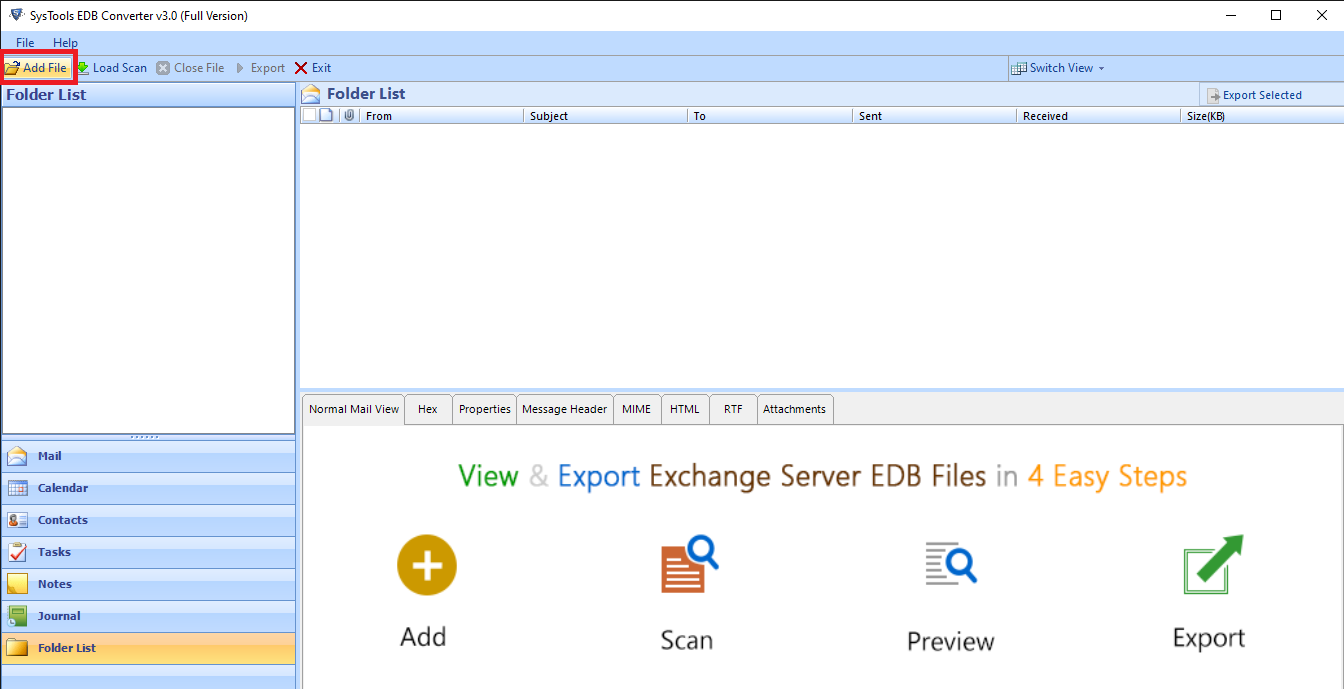 Step 3: Select all the required Exchange Email that you want to convert into PDF. Then, click on the Export Select button.
Note: This software is also capable to convert unlimited Exchange EDB Mailbox into PDF and various file formats.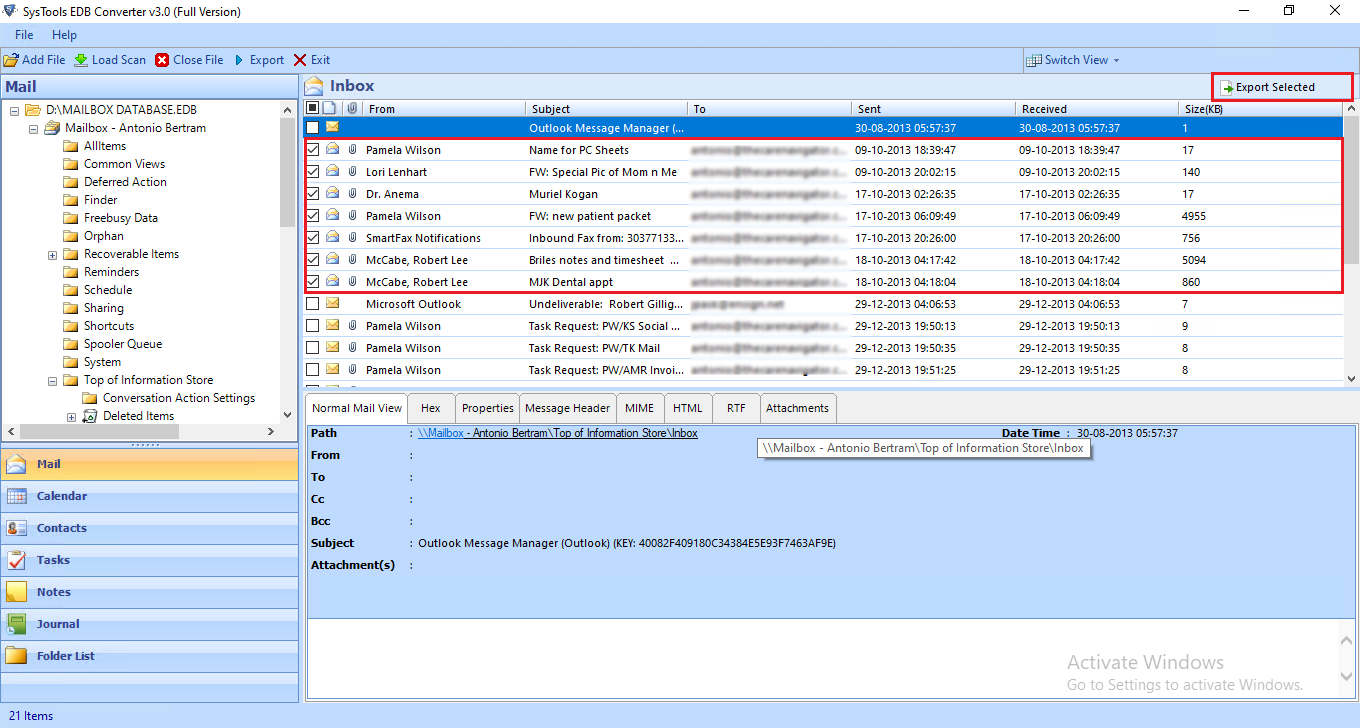 Step 4: Select the export type option as PDF and convert Exchange Email to PDF.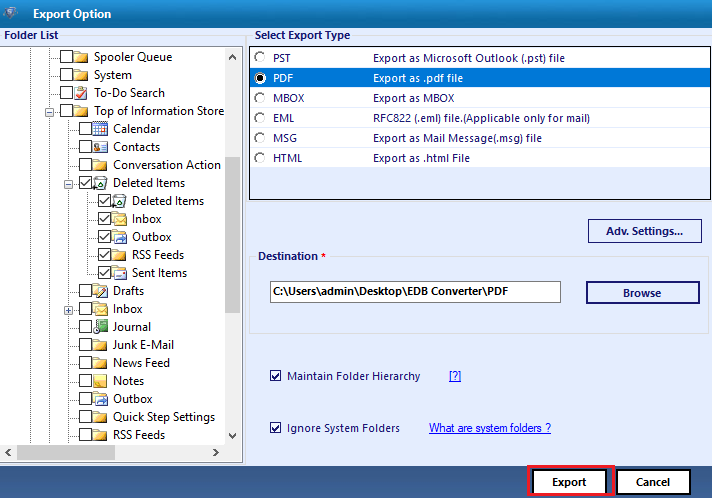 Bringing It All Together
However, Exchange EDB Email data is not fail-safe either it gets deleted, corrupted, stolen, or lost. That's why users convert their Exchange Database Mailbox / Emails into PDF file format in order to protect their confidential data. This write-up provides the best and possible way of how to convert Exchange Email to PDF by using the automated wizard. It convert multiple emails to Portable document format in a single shot without losing single bit of data in a simplified way.